The March issue of Fish Farmer magazine is online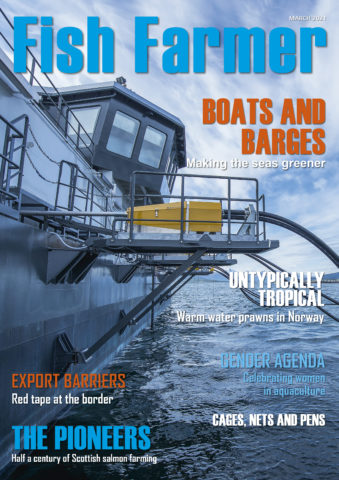 The March issue of Fish Farmer magazine is out now and you can view the online version here.
In this issue we look both back and forward. Our retrospective special feature harks back to the origins of salmon farming in Scotland, celebrating the fiftieth anniversary of the first commercial harvest from Marine Harvest's pioneering site at Lochailort. In many ways the early days of the industry are a world away from modern fish farming, but one thing that has not changed is the can-do attitude of the people working in the sector, and their willingness to embrace new ideas,
We also look forward, to the many ways in which the aquaculture industry is taking on the challenges of sustainability. From hybrid boats and barges – reducing the industry's carbon footprint – to creative ways to reuse and recycle waste, the industry is taking its responsibilities seriously.
Aquaculture can claim to be one of the most sustainable forms of producing protein to meet the world's needs, but there is still much further to go, and meeting this challenge will no doubt continue to bring about further changes in the industry over the coming decades.
With International Women's Day on 8 March, are also celebrating the role of women in aquaculture. Times have changed since the days when it was a given that fish farming was a male preserve, and there are inspiring stories from all over the world to be told of the women who have made their careers in the sector.
Also this month, Hamish Macdonell comments on the ongoing challenges of Brexit; we find out about the farmer who is raising tropical shrimps in Norway; and about the latest developments in cages, nets, pens and moorings.