The July issue of Fish Farmer magazine is online now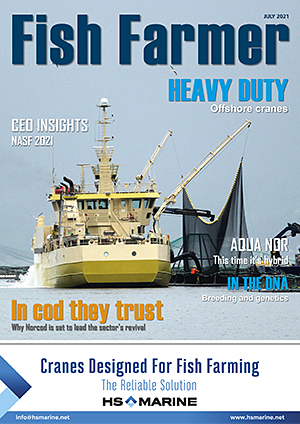 The July issue of Fish Farmer magazine is out now, packed as ever with news and features. To access the latest edition online, click here.
Norcod is currently the front runner in the race to revive the cod farming industry. Find out why Norcod's Chief Executive, Christian Riber, believes this time they have a model that works.
In this issue we also report on the North Atlantic Seafood Forum – which was held online this year – where Norway's Prime Minister Erna Solberg reiterated her belief that investment in the blue economy is a route to saving the environment. Also at the NASF, chief executives and analysts alike were in agreement that the industry's biggest challenge is finding ways to meet the world's growing demand for their product.
We also present the first part of a preview of Aqua Nor 2021, one of the industry's biggest trade shows, which next month will be taking place both as an in-person conference and an online event.
The July issue also features two aquaculture projects in Guatemala and The Bahamas that are being supported by Norwegian salmon farmer Kvarøy Arctic, and on the "Øymerd" project which is setting out to create a fish farm based on a floating concrete island.
Nicki Holmyard looks at the shellfish farmers' battle against tubeworm and this issue also features special reports on Breeding and Genetics, Transport and Logistics and Lifting and Cranes.
You can also read Hamish Macdonell of the Scottish Salmon Producers Organisation on the latest headache to emerge from the Brexit process, and Dr Martin Jaffa on how the pandemic has affected our consumption of seafood.