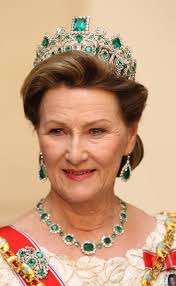 QUEEN Sonja of Norway has spoken of the part fishing can play in feeding the world's seven billion people.
She made the comments as she opened the 2014 Nor-fishing Exhibition in Trondheim, which she carried out with a touch of humour.
When a reporter from the Norwegian state broadcaster NRK had failed to get close enough for the opening ceremony, which saw the Fisheries Minister Elisabeth Aspaker about to present the Queen with a five volume work on Norway's fishing and coastal history, she suddenly bent down and grabbed the microphone and addressed it to Mrs Aspaker amid laughs all around.
In fact Queen Sonja also made history by becoming the first female member of the Norwegian royal family to open Nor-Fishing 2014, the country's premier fishing expo. It was also a point she made during the ceremony.
Members of the Norwegian royal family have taken a strong interest in the fishing industry since the beginning of the 20th century. At the Great Scandinavian Fisheries Exhibition in 1908, King Haakon was there for two whole weeks with at least three members of his family.
In her opening speech Queen Sonja said fishing faced a number of serious challenges but one of its roles was to feed a growing global population numbering some seven billion people.
She said to do this the world's oceans would play and increasingly important part, but stressed that the resources of the seas had to be protected, where it was vital to promote sustainable fishing. Although fishing was a renewable resource, it was not unlimited, she stressed.
The Queen also spoke about the incredible developments in fishing technology over the past ten years. The Exhibition, one of the most important in Scandinavia and which attracts over 400 exhibitors, ends on Friday.
In a separate address Mrs Aspaker said Norway's fishing industry was under serious pressures – a reference to the Russian seafood ban – and therefore needed less political control. She said her government would give the industry more freedom.