The August issue of Fish Farmer is online now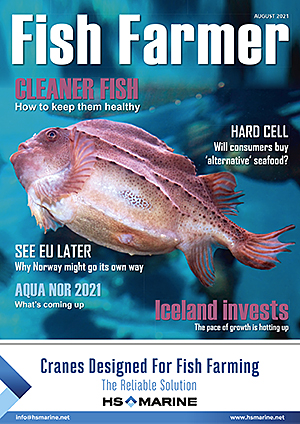 When is a fish not a fish? That might sound like a child's riddle, but when "seafood" can be made entirely from plant-based ingredients, or grown in a lab from stem, it starts to look like a serious question.
In this issue of Fish Farmer, we look at some of the companies at the cutting edge of alternative "seafood", from the cell culture pioneers to vegan-friendly enterprises. Will these ever represent serious competition for traditional aquaculture? With issues of cost, and taste to deal with, it looks as if the answer is "not any time soon".
Then again, 50 years ago the idea that more than half of the seafood consumed worldwide would be farmed might also have seemed far-fetched.
We also feature a roundup of the latest thinking on cleaner fish heath. Species such as Ballan wrasse and lumpfish were introduced into fish farms in order to control sea lice numbers in an environmentally sustainable way, but all too often the cleaner fish themselves suffer an unacceptable level of mortality and health issues.
The latest research suggests that to a large extent these problems came about because we still know very little about these species. That is changing as more and more is being learned through research. Our article also includes practical steps farmers can take to ensure the health of these useful creatures.
We've also got the second part of our Aqua Nor preview, plus features on Iceland and – ahead of the parliamentary elections this autumn – Norway. Nicki Holmyard reviews a comprehensive new guide to shellfish aquaculture and Martin Jaffa takes aim at some of the myths and misconceptions that have grown up around sea lice.
To read the August issue simply click here.