Technology-based transformation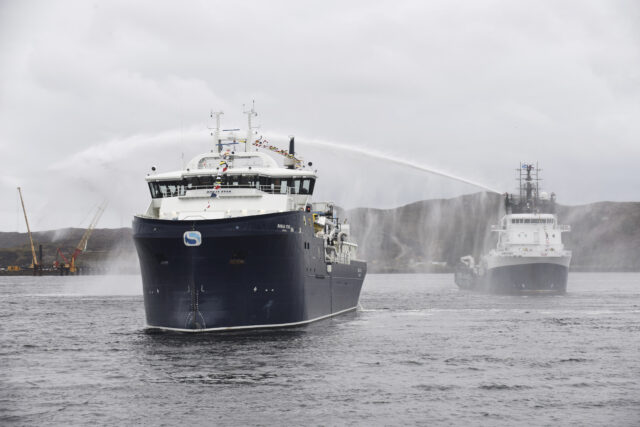 Healthy fish and a sustainable approach are the keys to success
With more than 600 staff across 60 sites on the Scotland's West Coast and The Hebridean Islands, Bakkafrost Scotland's ambition remains to become the leading and most sustainable salmon producer in Scotland.
Its five-year "Fresh Approach" strategy is underpinned by its Healthy Living Plan which outlines priorities under the following five sustainability pillars.
• Healthy business
• Healthy salmon
• Healthy people
• Healthy environment
• Healthy communities
In 2021, Bakkafrost Scotland strengthened this commitment by linking its financials to performance and progress on sustainability targets as well as announcing a five-year sustainable growth plan.
This includes a substantial investment programme across our value chain to strengthen, grow and transform the business. A fundamental element is the development of innovative recirculating aquaculture systems (RAS) for the freshwater stages of the life cycle and investment in the fleet.
Healthy Business
As an integral part of the five-year investment and sustainability plan, the Bakkafrost Group has committed to an investment programme of £711m to increase its worldwide output of premium salmon by more than 40%. A substantial proportion of this investment will, of course, be made in Scotland.
The investment is creating jobs, driving forward rural economies, developing business performance and improving day-to-day operations.
Sustainable growth of Bakkafrost Scotland is a priority. This is being realised by introducing industry-leading RAS freshwater infrastructure for larger smolt production.
RAS technology will eventually be used across all freshwater production, transforming Bakkafrost Scotland's operations.
The year also saw Bakkafrost Scotland pick up two key awards at the Highlands and Islands Food and Drink Awards in October, underlining the importance and success of its transformational sustainability strategy and the quality of produce it makes.
With a total of 15 categories, The Highlands and Islands Food and Drink Awards, now in their 17th year, recognise the very best products, food and drink experiences, outstanding retailers and businesses demonstrating sustainability, quality and diversity. The two awards won were Primary Producer, sponsored by Salmon Scotland and Sustainability, sponsored by Scotland Food and Drink.
Awarding Bakkafrost Scotland, the judging panel said: "This business nurtures a positive culture of continuous improvement and best practice – integral to their sustainable development".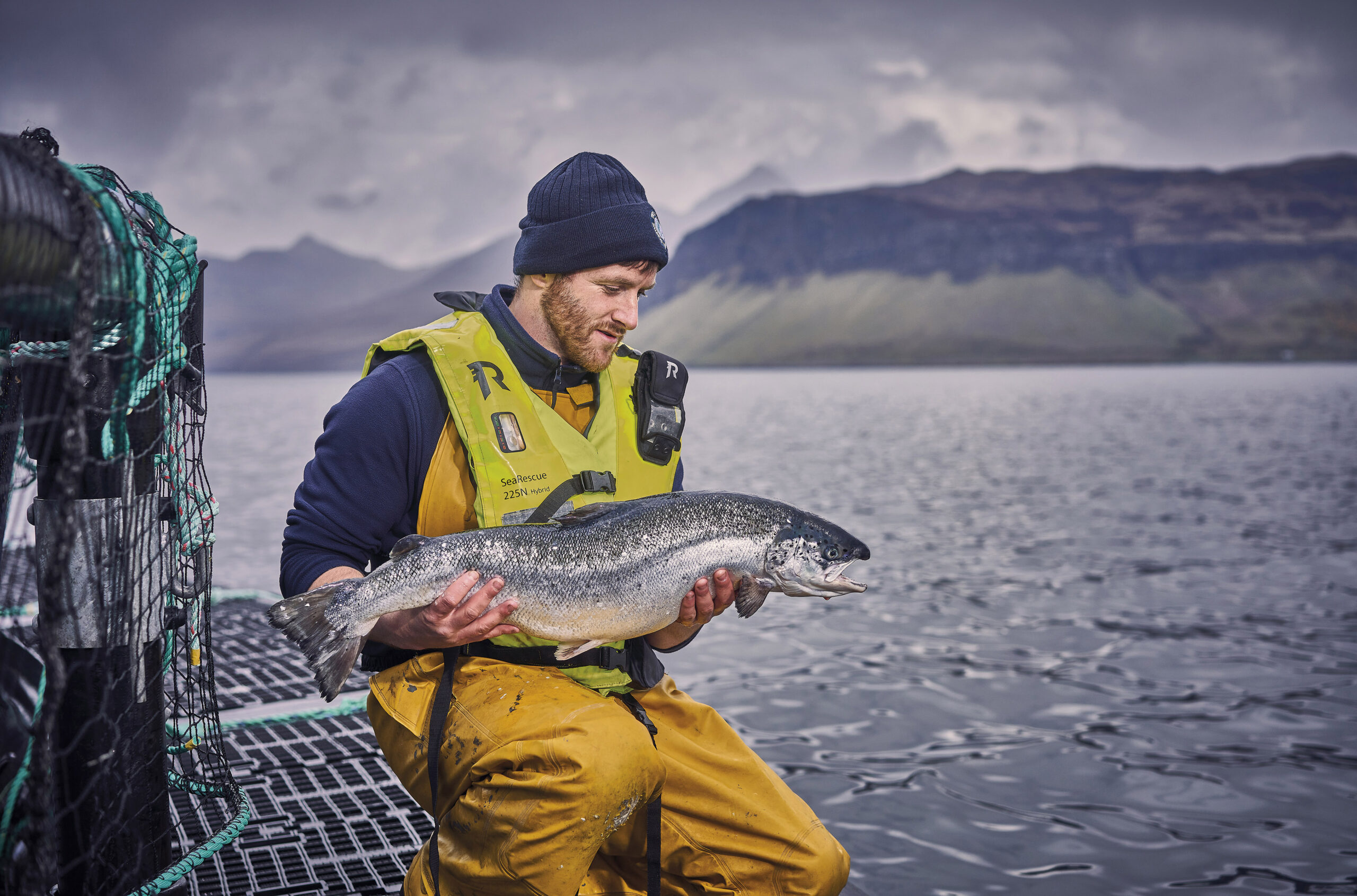 Healthy Salmon
A key element of the investment programme in Scotland in 2022 was the arrival in November of the largest wellboat vessel in the Scottish aquaculture industry.
The hybrid diesel-electric vessel, commissioned from the world's leading wellboat operator Sølvtrans in Norway, boasts world-leading technology with an FLS mechanical sea lice removal system and freshwater treatment using a reverse osmosis system for de-salination of water producing freshwater to improve gill health and remove sea lice.
It has been specifically built to handle fish with care, while increasing biosecurity in line with Bakkafrost Scotland's sustainability strategy which will see an increase in the use of freshwater treatments across its marine sites on the West Coast of Scotland.
Bakkafrost Scotland senior management, MP Angus Brendan MacNeil and MSP Alasdair Allan and, as well as local government representatives officially "welcomed" the Ronja Star at a reception in Stornoway on Friday 18 November.
The vessel has state of the art life support systems, which includes high-capacity oxygen production, a carbon dioxide removal system, and a water cooling system to ensure the fish are kept in optimal condition during treatment. In addition, the vessel has an automatic cleaning system, alongside sensors and cameras to monitor fish and water quality.
The Ronja Star is fitted with diesel-electric propulsion and a battery hybrid solution which reduces fuel consumption and emissions, all while generating less noise.
Healthy People
Our people remain our greatest asset.  Their health and safety are paramount; providing a safe working environment and ensuring we nurture a culture of continuous improvement and share best practice through our training and development programmes are priorities.
Bakkafrost Scotland continues to invest in our people through modern apprenticeship programmes, health and safety campaigns, positive recruitment projects and our recently launched Healthy Living Awards for individuals, teams or groups who have gone above and beyond to contribute to the responsible and sustainable development of the business, showing commitment to the sustainability pillars in our Healthy Living Plan.
Team Spotlight
We're proud to invest in Modern Apprentices and have over 40 apprentices across our team, undertaking a skills-based qualification in subjects including Aquaculture, IT and Food & Drink.
James Ronald is Marine Site Manager at Upper Loch Fyne in Argyll and he joined Bakkafrost Scotland 16 years ago as a Harvest Operative. This was his journey.
"I've received lots of training over the years with the company including advanced powerboat, sea crane, forklift, first aid and an SVQ Level 4 in Aquaculture.
"It offered flexible learning which allowed me to enhance my career while working around my home life. I manage three farms on Loch Fyne and I also have a one-year-old son, so finding spare time can be difficult.
"I've benefited greatly however and will carry the knowledge and skills throughout my career.
"An apprenticeship allows you to build up your knowledge, understanding and skills and gain a qualification at the same time. It's a no brainer and I would encourage anyone who is interested in aquaculture to get involved."
Healthy Environment
Recirculating aquaculture systems (RAS) technology will transform the Bakkafrost Scotland business and is integral to our aim to become the leading and most sustainable producer of salmon in Scotland.
Our new RAS facility at Applecross will be fully operational by 2024. It will not only be the largest RAS facility in Scotland, it will also be the most sustainable, with an ambition to be 100% powered by our own solar power and locally produced renewable energy. There will also be a reduction of more than 90% in both waste and water consumption.
Healthy Communities
Bakkafrost Scotland is committed to creating shared value in the rural communities in which we live and work.  Its Community Charter pledges our commitment to our people, suppliers, and communities. As part of this, our Community Fund encourages staff to nominate local groups, causes and charities in their community, which promote health and wellbeing or stewardship of the natural environment, to receive funding support.
Since its launch, over 100 staff have nominated groups including community food banks, schools who needed support to purchase equipment or to take part in outside activities, sports teams, charities and social enterprises for funding.
A key part of our community engagement programme is supporting local, traditional, cultural and sporting events such as the Skye Half Marathon, the Cowal Gathering and the Lochcarron Highland Games. These are all key community events and some have been a highlight of the rural calendar for centuries.