Tasmania bids to restore trust in salmon industry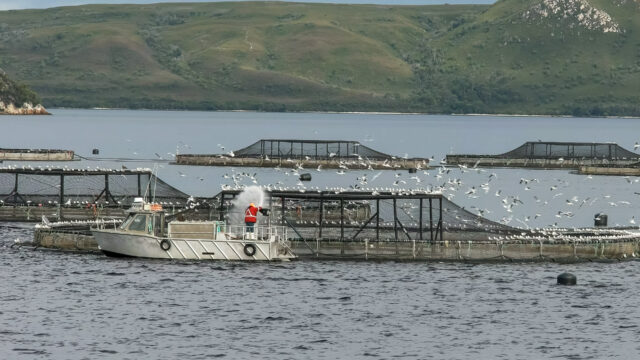 The Tasmanian government has drawn up a long term plan for the state's salmon farming industry.
A key aim of the strategy is to restore declining public trust in the sector. Primary Industries Minister Jo Palmer admitted that support for salmon farming had declined and said: "This is an industry that desperately wants the Tasmanian people's approval."
But she also said the number of critics who wanted the industry closed down was small, but very noisy.
The Tasmanian government, she added, was committed to a thriving industry – one that was economically successful and environmentally responsible.
The Tasmanian Salmon Industry Plan 2023 sets out aims and actions in four core priority areas:
Sustainable industry;
Healthy ecosystems;
Prosperous communities; and
Contemporary governance.
The document promises a revamped regulatory system and "improved" penalties for companies breaching the regulations. It also says that for proposed new farms, "the Government will support planning proposals in areas that are further away from land, in higher energy, more exposed and deeper water."
Jo Palmer said, launching the plan: "Tasmania is surrounded by temperate oceans, with highly valued wild fisheries and exceptional opportunities for diverse forms of aquaculture.
"Over the past 40 years the Tasmanian salmon industry has emerged as a leader in innovation and producing premium seafood.
"We are well placed to build on our natural advantages, to provide more sustainably sourced seafood while protecting our unique marine ecosystems. Salmon is Tasmania's largest primary industry and has become Australia's most valuable aquaculture sector."
Supported by world class research and development, and new forms of partnerships such as our participation in the Blue Economy Cooperative Research Centre, the minister said Tasmania will produce a plan to feed the state, wider Australia and other parts of the world.
The government said it will also continue to support businesses large and small through an extensive consultation process with the local community.
Tasmania is Australia's main salmon producing region, but most of the major companies have fallen under foreign ownership over the past two years.
Critics of the industry said the plan contained very little detail, accusing the government of a "cynical public relations exercise".