Super trawler makes public debut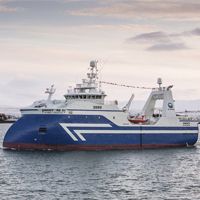 LOOKING resplendent in her blue and white livery, HB Grandi's new hi-tech fresh fish trawler, the Engey RE 91, made her debut in Reykjavik at the weekend.
The vessel arrived in Iceland from the Celiktrans builders yard in Istanbul, Turkey, at the end of January, but since then she has been docked in Akranes while engineers equipped her with a fully automatic fish holding deck as well as the latest processing deck equipment.
This new system is designed, developed and built by Skaginn 3X, in the towns of Akranes and Ísafjörður. It provides a healthier working environment as well as an improvement to the ship's production.
Vilhjálmur Vilhjálmsson, CEO of HB Grandi, said: 'We are both happy and proud to welcome this magnificent fresh fish trawler, which is one of the most technologically advanced fishing vessels in Iceland.
'We will add two more fresh fish trawlers, Akurey and Viðey, to our fleet in the next few months, both of which will be equipped with the same advanced technology as Engey.
'We expect Engey to go on its first tour (fishing trip) at the end of April.
'This is the largest development project ever to have been embarked on with a fishing vessel in Iceland.
'The foundation for this new technology comes mainly from new procedures in handling the fish, as well as increased processing system automation.
'This speeds up the processing and finishing of the product, delivering a much higher product quality.'
Apparently, new camera technology photographs every single fish, categorising it by size and species. This technology also traces the fish throughout each step of the process, up until it is unloaded.
Fisheries and agriculture minister Thorgerður Katrín Gunnarsdóttir formally named the new ship, which was then blessed by Reykjavik Cathedral parish priest, the Rev Hjálmar Jónsson. The vessel was later opened to the public.