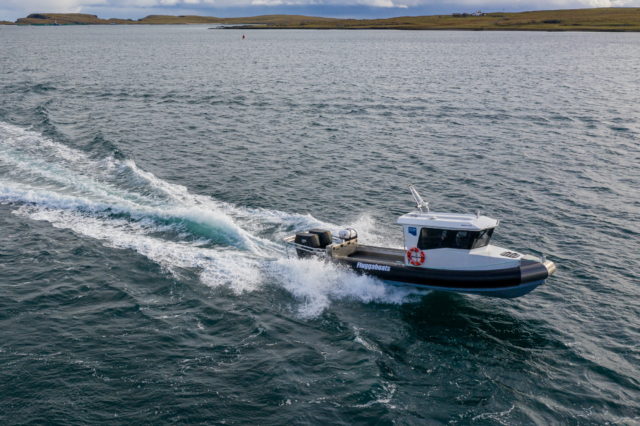 Six Fluggaboats ordered by Grieg Seafood
Unst Inshore Services are currently building six Fluggaboats for Grieg Seafood.
These boats are being used as fast work boats for their sites in Shetland. Four of these are 8.5 m twin OXE 150 hp forward cabin boats and two are single engine aft consol boats with deck area as a priority.
The first two boats are currently operational and are well suited to the conditions and clocking up almost 200 hours per month, the second two boats to be delivered in August with the final two boats delivered by the end of 2020.
The Fluggaboats are supplied coded to Cat 3 and ready to operate on delivery.
The boats are very well suited to the OXE diesel outboards and these are maintained and serviced by Unst Inshore Services. The company travelled to Sweden in December for training on the different systems that OXE use. This has proved invaluable both for themselves and Grieg as the reliability and economy are proving superb.
The Fluggaboats were developed primarily as a workboat for the salmon industry. They have now found a good power supply in the Oxe diesel which allows the boats to make good use of the room available in the aluminium hulls and HDPE collar.
Each certified 8.5 hull has 7.2 m3 of buoyancy foam in the hull and collar, and has a boat weight of 3.7 tons full fuel. Cabin versions even benefit from a heater run off one engine. Stability is also very good on these boats, which makes working alongside a salmon pen safer.
The OXE diesels are supplied by Proteum. Proteum are a UK based marine distributor based in Southampton, providing marine diesel engines and support services to a worldwide customer base.
Distributing a portfolio of marine products, including OXE Diesel, to both the commercial and pleasure boat markets, the OXE design has matured to achieve the highest levels of reliability. The range includes 125HP, 150HP, 175HP, 200HP and recently launched 300HP, all options available are designed to meet different user specifications.
The OXE Diesel is a cost effective alternative to petrol when considering total costs of ownership, benefiting from lower fuel costs, higher working efficiency, lower maintenance and ease of sourcing compared to petrol. Diesel's lower volatility also makes it a safer option than a petrol alternative.
The growth of the OXE Diesel is due to customers having confidence in the brand, which is considered to be a reliable, safe and cost effective alternative to petrol. Due to the pressures and new working guidelines due to Covid-19, Proteum has still secured orders, commissioned engines and completed sea trails; keeping customers operational and ready to get back on the water..

Caption:
Featured: One of Grieg Seafood fast boats.