SSPO funds wild salmon conservation projects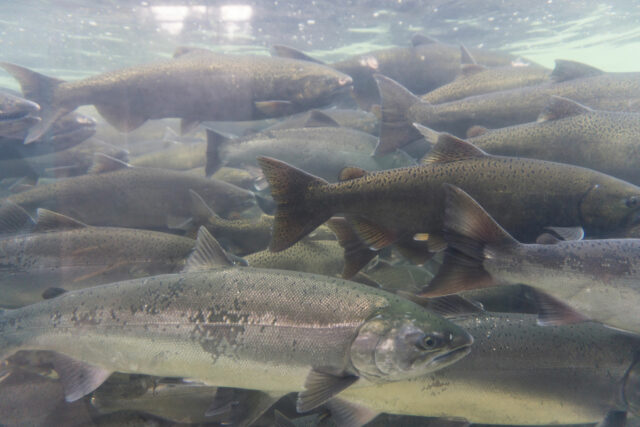 The Scottish Salmon Producers Organisation has provided conservation bodies with funding or more than £70,000 to help ensure the future of wild salmon.
The awards were made through the Wild Salmonid Support Fund, which is financed by the leading fish farming companies and managed by the independent grant making charity, Foundation Scotland.
The fund, launched this April, aims to invest around £1.5m to support wild salmon and sea trout stocks in Scotland. The five projects receiving funding in this round include:
Argyll Fisheries Trust, which received £18,600 to invest in habitat restoration for sea trout in the Dalvuie Burn near Oban;
The Flow country Rovers Trust, in the Highlands, which will use its £10,070 grant to help fund research into macroinvertebrates in 10 rivers, contributing to a picture of the health of stream habitats and the effects of global warming;
In the Outer-Hebrides, Urras Oighreachd Chàrlabhaigh (Carloway Estate Trust) received a grant of £9,251 to undertake a project that will aim to improve salmon spawning grounds on the Carloway river, including the replenishment of gravel beds;
Wester Ross Fisheries Trust; and
Lochaber fisheries Trust.
Eleanor Constable of the Flow Country Rivers Trust said: "The Flow Country Rivers Trust is delighted to receive this funding and looks forward to monitoring the effects of river warming caused by climate change on stream insects and the young salmon that prey on them."
Alan Kettle-White, Argyll Fisheries Trust, said: "Argyll Fisheries Trust and our project partners are delighted to receive funding from the Wild Salmonid Support Fund to deliver fish habitat improvements on the Dalvuie Burn. The project aims to improve fish spawning and juvenile habitat for the sea trout and benefit wider biodiversity and local fisheries."
Tavish Scott, CEO of the Scottish Salmon Producers' Organisation (SSPO) said: "The SSPO and our member companies are delighted to work with the wild salmon sector to make these awards. Investing in good science and nature restoration projects on Scotland's rivers is extremely important.
"We look forward to seeing the results of these excellent projects which are funded by the sector, and those that will be delivered in future under this fund, to benefit Scotland's iconic wild salmon and sea trout."