SSF vet shortlisted for national award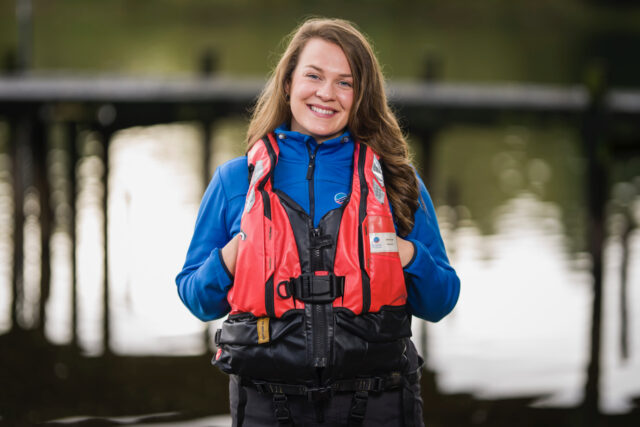 A fish vet with salmon producer Scottish Sea Farms has been shortlisted as one of three finalists in the prestigious British Veterinary Association (BVA) Young Vet of the Year awards.
Alison Brough, who joined Scottish Sea Farms in February this year, faced stiff competition from a total of 105 nominations across the UK, in all fields of the profession.
The BVA said the judges for the annual awards 'had their work cut out coming to a decision', but felt Brough stood out.
The BVA Young Vet of the Year award, sponsored by Zoetis, aims to celebrate an exceptional young vet who leads, inspires, and goes above and beyond what is expected of them early on in their career.
Also shortlisted for the award are Kirsty French, a small animal vet working at a veterinary practice in Milton Keynes, England, and Hannah Hunt, who works with small animals, horses and farm animals at a practice in Aberystwyth, Wales.
Alison Brough, who graduated from the University of Liverpool School of Veterinary Science in 2017, spent the first few years of her career travelling around the Scottish Borders tending to farm animals.
Looking for a change, she answered a Scottish Sea farms job advert and soon found herself swapping her green wellies and flexothanes for yellow wellies and an orange lifejacket, travelling around the SSF sites.
She said: "The more I travelled, the more I came to believe that one of the best ways I could make a positive difference would be to help those working most directly with the fish."
Ronnie Soutar, Head of Veterinary Services at Scottish Sea Farms, who nominated Brough for the award, said: "Alison very quickly showed an impressive ability to translate not only her new fish knowledge but also her solid grasp of veterinary basic principles into practical advice to farm staff.
"On her own initiative, Alison has taken over responsibility for fine-tuning and delivering fish health training at farm level, personally delivering training modules on a regular basis.
"She recognises that the most important thing she can do for salmon health and welfare is to ensure that those with direct responsibility for the fish have the highest possible level of knowledge.
"She is an excellent example of a young vet making a very positive impact, mainly through her recognition that the relationship with people is the path to helping animals.'
Brough said she had seen first-hand the passion of those working in the Scottish farmed salmon sector and their commitment to overcoming fish health challenges.
"To be shortlisted as finalist for the BVA Young Vet of the Year, and help represent that passion and commitment, is an absolute honour, one that I hope will also help raise awareness of aquaculture as a career path for fellow and budding veterinarians," she added.
The winner of the BVA Young Vet of the Year Award 2022 will be announced at a gala dinner at the London Marriott Hotel in Canary Wharf, London on Thursday, 17 November.