SSC focuses on exports at French show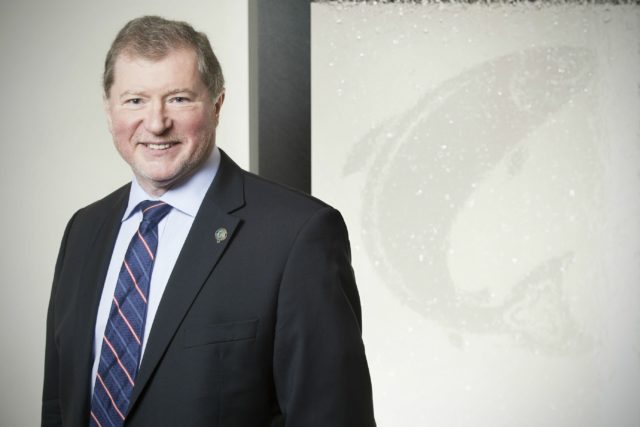 THE Scottish Salmon Company (SSC) will showcase its products to an international audience when it exhibits at a prestigious French trade fair starting on Saturday.
Held every two years over five days and with more than 3,000 international exhibitors, the Sirha show in Lyon is aimed at the global food service and hospitality industries.
Following the success of the event in 2015, the SSC was invited to return as a premium partner and will once again be sponsoring the exhibition's 'Golden Fish' competition, with a focus on its new Label Rouge vacuum packed Scottish salmon fillets.
Arranged by the Federation des Poissonniers Écailleurs Traiteurs Rhones-Alpes (FDPETRA), the competition takes place on Sunday, January 22.
Eight master fishmongers from all over France compete for the title by preparing and presenting produce from the SSC's collection and answering questions to demonstrate their knowledge. Competitors will be judged by a panel of seafood professionals.
Craig Anderson (pictured), managing director of the SSC, said: 'With hundreds of people from all over the world attending, there really is no better place to promote the traditional skilled craft, hard work, creativity and dedication of French fishmongers who really are integral to the whole industry.
'Our Scottish salmon has been accredited with the highly coveted Label Rouge quality mark which is a fantastic validation of the quality and provenance of our salmon.
'It's wonderful to see the appreciation the French have for Scottish produce. 
'Our focus is on exports and developing sales of our Label Rouge in France and other countries. 
'Sirha is the perfect opportunity for us to showcase the quality of our Scottish salmon to a global audience.
'We are looking forward to making the most of the exciting opportunities with our customers in France and around the world.'
Cedric Bejaoui, president of FDPETRA, said: 'The Sirha exhibition is a celebration of the best people, products and innovations the international food service and hospitality industries have to offer.
'The Scottish Salmon Company's pride in its Scottish heritage and its confidence in the quality of its produce makes it an ideal fit with the aims of the exhibition.
'We are pleased to welcome the Scottish Salmon Company to France, and are proud to be able to display their produce to our visitors.'
The show runs from January 21 to 25 at Eurexpo in Lyon.