SSC adds sparkle to school's festivities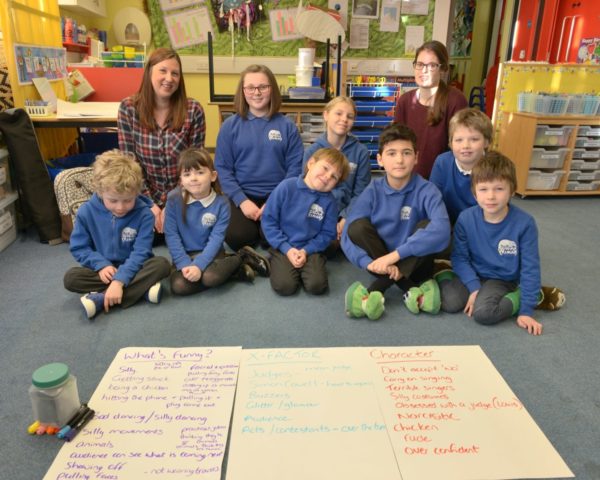 GIGHA primary pupils' Christmas show will be an extra special tale this year thanks to the Scottish Salmon Company (SSC), writes Mark Davey of the Campbeltown Courier.
SSC chose the school as a winner of its winter show competition in partnership with the National Theatre of Scotland (NTS).
Earlier this year, two primary pupils, Ruby and Emily, were so inspired by a schools' tour of Jason and the Argonauts, a Visible Fictions production, presented as part of the Theatre in Schools Scotland programme, that they formulated a bid for further funding.
Their pitch was successful and the school was awarded a funding package to help plan and produce their end of term show, Gigha's Gone Global for Christmas.
The prize included a special one-day winter workshop with the NTS, plus £500 towards props and costumes.
Beth Morton, a director, writer and theatre practitioner from the NTS, visited the school last Friday and gave help and advice on developing a script and designing the set and staging.
This is the second consecutive year SSC has supported the Theatre in Schools Scotland initiative, one of the aims of which is to bring high quality theatre to schools and school children in remote and rural areas of Scotland, places where many of SSC's staff live and work.
Craig Anderson, SSC chief executive, said: 'Huge congratulations to the staff and pupils at Gigha primary.
'Their entry was fantastic and we look forward to seeing the results of their creativity at the final show.
'Theatre in Schools Scotland is an important project for us and we are proud to play our part in ensuring that the arts reach remote and rural areas of the country.'
Julie Wilson, teaching head at Gigha primary school, added: 'We are thrilled to have won this year's winter show competition; the entire school is really excited.
'Our Christmas show is a community highlight – with just 12 children in the school, it's great to have the whole island turn up to support us.
'This year is really special as our two P7 pupils have helped to write and develop the play, drawing inspiration from Christmas around the world and Gigha's Got Talent.
'It is wonderful to have the support of the Scottish Salmon Company, the opportunity to produce such a high quality production for our pupils.'
The final production of Gigha's Gone Global for Christmas will take place at the village hall from 7pm this evening and is the start of the island's winter festival weekend.
Caption: (from back left) NTS trainer Beth Morton, Ruby, Emily, Mari Sheriff. Front left: Frazey, Laila, Mark, Connor, William and Archie.