Spotlight on students at Berlin show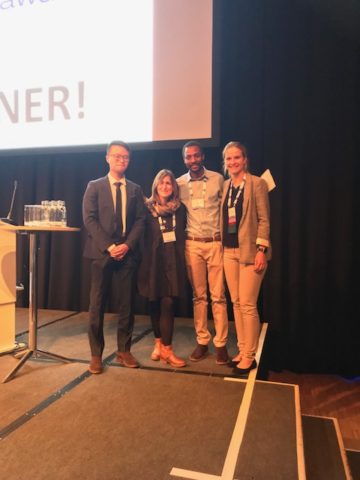 A TRONDHEIM based PhD student was the audience's choice for the EAS Student Spotlight Award, announced on day one of the European Aquaculture Society conference in Berlin today.
Frank Thomas Mlingi, of NTNU, is researching lumpfish biology, investigating sexual maturation and egg quality in farmed lumpsuckers, under different photoperiod and temperature regimes.
Reliance on wild caught broodfish is unsustainable because it puts too much pressure on stocks, said Mlingi, so the aim was to close the breeding cycle in captivity.
The other two finalists, selected from 150 abstracts, were Hanlin Xu, of the University of Las Palmas, looking at the improved use of low fishmeal and fish oil diets in gilthead sea bream; and Renata Goncalves, of DTU in Denmark, whose research is focused on the nutritional requirements of European lobster.
EAS president Gavin Burnell paid tribute to the hard work of EAS student leader and board member Kathrin Steinberg, who is now working in the industry (for the Aquaculture Stewardship Council), and he asked for possible successors for the role to put their names forward.
He said the EAS had taken the decision to make membership of the society free for students, from now onwards.
'We're very pleased with this initiative and it's just one of the many activities we've been undertaking to try and improve the profile of students.'
At the other end of the scale, membership will also be free for retirees, and there is a new corporate membership too.
Aquaculture Europe 2019, which runs until October 10 at the Estrel Hotel and Conference Centre in Berlin, has attracted record attendance, with more than 2,400 registrations, said the organisers.
There is also an exhibition running alongside the academic sessions, with 150 booths representing 130 companies, again a record for an EAS show.
Opening the show last night, Burnell said the only 'B' word he wanted mentioned at the event this week was Berlin: 'Let there be life and a future from growing from water.'