South Korea to launch global fish brand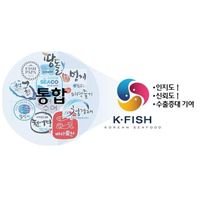 SOUTH Korea will this week announce the global launch of its own special seafood brand just 24 hours after US President Donald Trump ends his brief visit to the war threatened Asian country.
Ironically, the unveiling of K-FISH will take place not in the capital Seoul, but in the Californian city of Los Angeles because the United States will be the first country to receive the brand.
Kim Young-choon, South Korea's fisheries minister, will give details of a planned roll-out which will later expand to include Europe, China, the Middle East and South America.
A ministry statement said it had developed the brand to promote 'the excellence of products from the Korean sea', and K·FISH is 'the first government certified fishery export'.
'The K·FISH logo was created by modifying the Taegeuk symbol that stands for Korea, in which the three primary colours represent the clean ocean (blue), good texture (yellow) and quality control (red), respectively. At present, 11 categories (of the brand) are available.
'The US launch event marks the introduction of K·FISH to the global market, and is expected to offer a significant opportunity for promoting the excellent quality of seafood from the Republic of Korea. As the US is a leading trade partner, Los Angeles was an ideal location for the launch.'
At Thursday's ceremony in Los Angeles, there will also be presentations and a cooking demonstration by chef Kerry Heffernan, a renowned seafood expert, who will demonstrate special Korean inspired recipes using fresh K·FISH products, followed by tasting.
The brand launch also comes just as seafood exports from its neighbour North Korea, a major revenue earner for the rogue state, are reported to have all but dried up thanks to international sanctions.