Shock as giant Havfarm project is refused permanent licences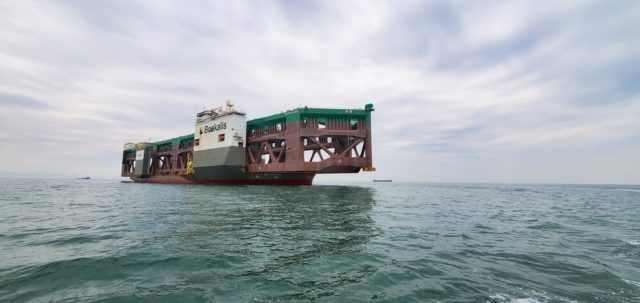 The Norwegian Directorate of Fisheries has turned down an application for 13 development permits to be converted into permanent licences for Nordlaks' offshore salmon farm platform, Havfarm 1. The Directorate cited welfare issues as the reason.
Nordlaks has said it will appeal the decision, adding it had met all the criteria set for the project.
The decision is  seen as a major blow to Nordlaks Oppdrett AS  and potentially throws a question mark over the billion kroner (£84m) project. A second platform, Havfarm2, is also planned.
The Directorate said Havfarm 1 has not met the established criteria and mortality has been high over a long period.
The platform completed its 15,000 mile voyage from China last summer and received its first stocks several weeks later. The Directorate said  there had been challenges related to mortality which had been generally high with some of the cages having particular problems.
So far Nordlaks has declined to comment, but it can appeal the decision. Officially named "Jostein Albert" after the company's former chairman Jostein Albert Refnes,  the platform is one of two such 385 metre long vessels  planned by Nordlaks. Each is capable of holding up to 10,000 tonnes of salmon.
A large crowd, which included Fisheries Minister Odd Emil Ingebrigsten, greeted its arrival in Norway a year ago, although some local fishermen were not so enthusiastic.
Nordlaks said at the time that the development heralded a new era in offshore aquaculture and should lead to fewer escapes and a big reduction in lice, two issues which have dogged the industry in recent years.
The platform was filled with more than two million salmon last September, but a subsequent veterinary report has described has assessed fish welfare as "reduced and poor".
The Directorate's report says: "Mortality has remained stable and high in all cages throughout 2021, where cages 3-6 have had the highest mortality with an average of about 25%."
The mortality rate for all the cages averaged 19%, with the most common cause of death being related to wounds.
(Article updated 4.08pm, 28 June)