SEPA grants licence for Loch Long Salmon's semi-closed farm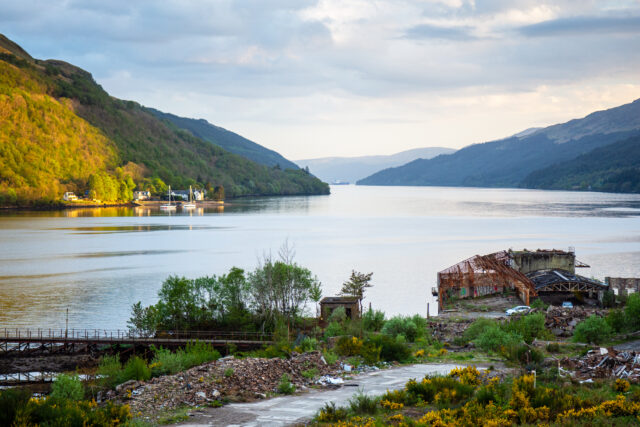 The plan for Scotland's first semi-closed containment marine finfish farm has taken a step closer to reality, following the granting of an environmental permit to Loch Long Salmon for a farm at Beinn Reithe near Arrochar, on the west coast of Scotland.
The Scottish Environment Protection Agency (SEPA) has granted an environmental permit for the farm on Loch Long, following a two-year programme of surveys and modelling to assess its environmental impact.
The environmental permit allows Loch Long Salmon to deploy five enclosures, each 140 metres in circumference, with a biomass limit of 3,452 tonnes. Each enclosure will have an impermeable membrane.
The proposal still needs to obtain planning permission, and Loch Long Salmon has submitted a planning application to Loch Lomond & The Trossachs National Park Authority for determination in early in 2022, which would allow construction on the site to begin by the end of 2022. Recent cases have seen planning authorities reject fish farm proposals even when a SEPA licence has been granted.
Loch Long Salmon is a joint venture between three partners: Simply Blue Aquaculture, part of marine renewable energy group Simply Blue; aquaculture specialist Trimara Services; and food industry group Golden Acre Foods.
The company says that its semi-closed system, which allows water to flow through but keeps sea lice out of the pens and waste in, means that it has less environmental impact than a conventional salmon farm.
Loch Long's application to SEPA did not include a request to be allowed to use chemical treatments to control sea lice in the pens, as this is not considered necessary in a semi-closed system.
Also, the company estimates that more than 85% of waste and uneaten food will be collected internally at the bottom of the enclosure to be brought ashore and treated, further reducing the environmental impact of the site.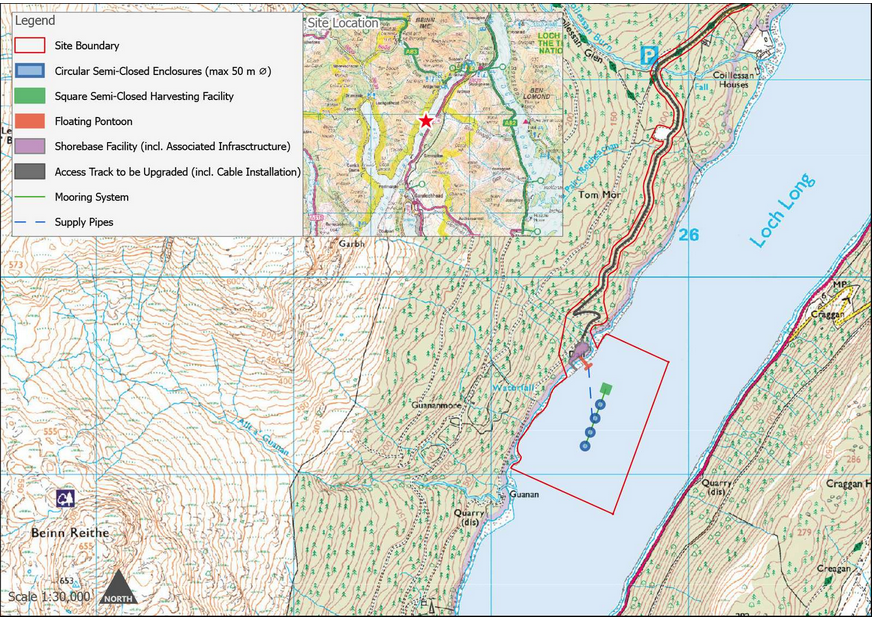 Stewart Hawthorn, Director of Loch Long Salmon, said: "We are delighted SEPA has granted the CAR licence for our Beinn Reithe site in Loch Long, particularly for their thorough but helpful approach which will help bring semi-closed containment aquaculture to Scotland for the first time."
He added: "This farming system has been operating successfully in Norway since 2014 and is now being deployed in the Faroes and Canada, but this is the first time it will be used in Scotland. This exemplar project provides an opportunity to show closer to home what is possible and to secure the future of the salmon farming industry in Scotland. It will, reduce environmental impacts while continuing to support vital jobs and economies in rural Scotland."
"With this SEPA licence, I hope the Planning Authority will act quickly to grant permission so that we can begin construction of this exciting project."
SEPA said that its decision to grant the permit is linked to its desire to support new approaches in aquaculture, to enable the industry to grow without adverse environmental impacts.
Jo Green, Acting Chief Executive of the Scottish Environment Protection Agency (SEPA) said: "As Scotland's independent environmental regulator, SEPA is ambitious in its aspirations for an aquaculture sector where operators recognise that protecting the environment is fundamental to their success and is foremost in all their plans and operations. We want Scotland to be a world-leading innovator of ways to minimise the environmental footprint of food production and supply, and for aquaculture operators to have a strong and positive relationship with neighbouring users of the environment and the communities in which they operate.
"SEPA's revised regulatory regime aims to actively support innovation that drives environmental sustainability. As such, semi-closed containment systems, such as that proposed by Loch Long Salmon, have the potential to play a significant role in enhanced sustainability through reduced medicine use and discharge. We will continue to encourage and support businesses across the sector to introduce environmentally innovative approaches to fish production."
Fish Farmer's December issue featured an interview with Stewart Hawthorn.