Seaweed 'sheets' can boost production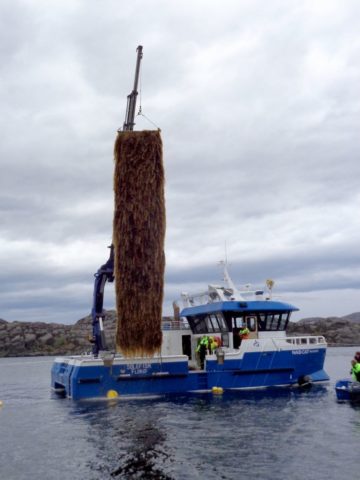 THE Scottish Association for Marine Science (SAMS) has co-founded a company to develop off-the-shelf seaweed farms.
AT~SEA Technologies has been formed by Oban based SAMS alongside seven other organisations that made up the EU project AT~SEA and are now shareholders.
This project, which started in 2012, aimed to demonstrate the technical and economic feasibility of seaweed cultivation in Europe.
It developed seaweed cultivation 'sheets' that increased the surface area for growing and allowed for greater mechanisation in the industry.
AT~SEA will deliver its findings in Brussels tomorrow, and on Thursday (June 11) SAMS will find out whether the biological work it contributed to the project has been successful at the Scottish Marine Aquaculture Awards.
SAMS is shortlisted in the innovation category at the awards ceremony in Edinburgh, organised by the Crown Estate.
The company's specially designed sheets – known as 2D seaweed cultivation substrates – form part of the product offered by AT~SEA Technologies, which will specialise in industry start-ups.
Seaweed is seen as an important source for future supply of food and feed (additives), biochemical, biomaterials and bioenergy.
Dr Adam Hughes, senior lecturer in sustainable aquaculture at SAMS and AT~SEA member, said: 'Seaweed is such an important source for food supply and biofuels, yet Europe is far behind other continents in terms of developing the industry.

'By offering these off-the-shelf farms, along with the knowledge required to sustain a business, AT~SEA Technologies can help countries throughout Europe grow the industry in a sustainable way.

'We were thrilled to be nominated for the work we have done and we see this nomination as an endorsement of the excellent research done by our team at SAMS.'

Hughes will be speaking at the AT~SEA final event in Brussels.