Seals savaging fish stocks off Whitby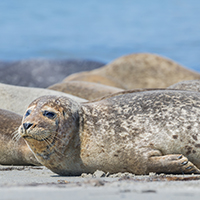 SEALS off the coast of Whitby are wreaking havoc with salmon stocks and affecting coble fishing for local boats, the Whitby Gazette reported yesterday.
When Martin Hopper, skipper of the Courage, first started fishing in 1979, there was a fleet of 25 boats and it was rare to come across a seal.
Recently he has seen a colony of 300 and spends most of his valuable fishing time trying to avoid them.
Fully grown adult common and grey seals consume around five to 10 per cent of their bodyweight in fish or other marine creatures when they feed.
'Take an average grey seal as weighing 350lb and say it eats seven per cent of its bodyweight; this would equate to 24-25lb of fish every time it feeds,' said Hopper.
'In areas where large seal colonies are present there is no doubt that they are eating a lot of fish.
'Once they get used to where you go they are waiting at the same spot. That's how clever they are.
'I got a seal with me at Hawsker and so I travelled back to Sandsend. It followed me and then came back with me to Hawsker. They follow you like a dog.'
Anyone who is fishing from a small boat is affected.
'When there's a lot of fish the seals just take one bite and then leave them. When each salmon can have a value between £20 and £40 the financial impact this has on the catch is huge.'
The rivers are protected but once the fish are in the sea, there is nothing to protect them. The season is only three months long.
'Seals also deplete cod as they strip the netting completely,' said Hopper. 'Financially it is devastating, a lot of people give up fishing as it is that bad.
'Livelihoods are being affected and it is mainly the smaller boats under 10 metres, like mine.'
Hopper has tried acoustic devices and logged the effect for North Eastern Fisheries, but these make little difference and often work as an alarm, letting the seals know that fishing is happening in that area.