Seafood summit nets Saucy Fish chief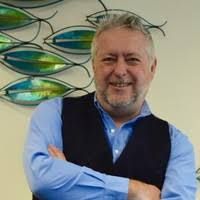 THE boss of Seachill, the company behind the successful Saucy Fish brand, will be one of the main speakers at this year's UK seafood summit, when he will talk about innovation and consumer messages.
Simon Smith (pictured) joins a line-up of from trade, industry and science for the October event, where topics covered will include Brexit and the effect of microplastics on the marine environment.
Formerly known as the Humber Seafood Summit, the annual event is organised by Seafish, the public body that supports the £10 billion UK seafood industry.
This year the summit has moved to the Forest Pines Hotel, near Scunthorpe in the Humber region in order to accommodate more delegates due to increasing attendance each year.
Some 300 delegates are expected to attend this year to discuss consumer demands, consumption trends, innovation, sustainable sourcing, the supply chain, and the changing political, economic and regulatory landscape in relation to Brexit.
The keynote speaker for 2018 is Ursula Lidbetter, chair of the Greater Lincolnshire Local Enterprise Partnership, and member of the government's Food and Drink Sector Council.
Other speakers include Andrew Oliver from Andrew Jacksons Solicitors, who will be focusing on the impact of Brexit on international seafood trade, and Dr Peter Kershaw, who will explore his work for the UN on the effect of microplastics on the marine environment
Seafish chief executive Marcus Coleman said: 'We've got some exceptional speakers lined up and this summit provides an invaluable opportunity for the industry to come together to network, share ideas and discuss major issues, at a time of great change and opportunity.'
The two-day summit opens on Wednesday, October 17, with an afternoon networking event, followed by the Seafood Fayre showcasing seafood from around the UK and local produce. The conference takes place the following day on Thursday, October 18.