Sea lice 'loophole' slammed by campaign group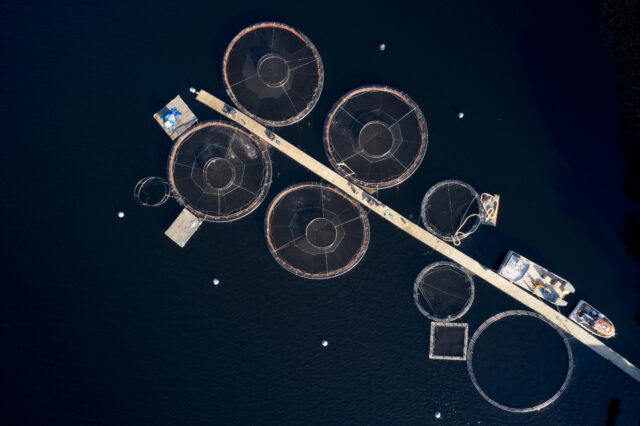 Scotland's salmon farmers are using a loophole to avoid reporting sea lice numbers, according to a report from conservation lobby group WildFish.
Reporting sea lice counts on a weekly basis has been mandatory since the policy was introduced by the Scottish Government with effect from March 2021. A grace period is allowed, however, ahead of the point at which the fish are slaughtered – this is known as the "withdrawal period prior to harvest" – during which farmers are not required to carry out lice counts.
WildFish – formerly known as Salmon & Trout Conservation – says that this rule has been exploited by a number of fish farm companies, to claim an exemption for as long as 25 weeks.
The report, Scottish Salmon: Harvesting, sea lice and disease, gives examples from the public record including farms operated by Cooke Aquaculture, Scottish Sea Farms and Loch Duart.
In some cases, WildFish says, sea lice counts had already exceeded the threshold of 1 or 0.5 adult female sea lice per fish (depending on the time of year), at which the industry's Code of Practice requires that remedial action is taken. By defining the following period as a "withdrawal period", however, even growing sea lice numbers do not need to be reported.
The report also criticises the industry for carrying out harvesting over a period of several months even where a farmed fish population is suffering from diseases. In contrast, WildFish says, the Norwegian Food Safety Authorities can order that all the fish at a given site must be culled as a matter of urgency if they are suffering from disease or high levels of parasites such as sea lice.
WildFish also says that a pre-harvest mortality rate of 24%, according to publicly available figures, is not acceptable.
Report author Dr Matt Palmer said: "Our report paints a shocking picture of what is happening on salmon farms in Scotland – with one in four fish dying prematurely, and sea lice parasites proliferating in huge numbers. This has a serious impact on the surrounding environment, and wild fish populations – not to mention it being at odds with the image presented publicly by the salmon farming industry."
WildFish, which continues to support recreational catch-and-release angling for wild salmon, has long called for open-net fish farming to end in Scotland.
Tavish Scott, chief executive of industry body Salmon Scotland, responded: "'WildFish' have again made it clear they have little understanding of our business, despite our members remaining open to engaging directly with them.
"Respectfully, the organisation, its membership, and wild fish would be better served by them attending to the pressures of fishing for sport and other human-induced impacts affecting critical freshwater habitats."