Scottish Sea Farms shines for SalMar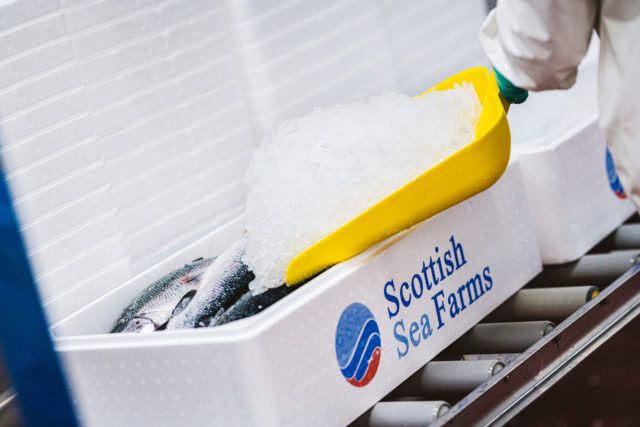 SalMar today announced a second quarter operating profit of NOK 661m (£55m), considerably lower than forecast by industry analysts.
The corresponding figure for Q2 last year was NOK 882m (£73m) and something like that was expected this time.
Scottish Sea Farms, however, in which SalMar has a 50% share, performed particularly well during the quarter, doubling its revenues.
Scottish Sea Farms (known in Norway as Norskott Havbruk) generated gross operating revenues of NOK 793m (£66m), compared with NOK 396m (£33m) in Q1 this year and NOK 465m (£39m) in the second quarter last year.
The increase is attributable to a higher volume harvested. Norskott Havbruk harvested around 11,400 tonnes in the quarter, up from 5,900 tonnes in the first quarter this year and 6,500 tonnes in the second quarter 2020.
The volume harvested in the quarter is the highest ever recorded by the company in a single quarter.
Output from Scottish Sea Farms will rise considerably next year when it incorporates Grieg Seafood's Shetland operations.
Meanwhile, SalMar's subsidiary Icelandic Salmon reported a Q2 harvest rise of 2,300 tonnes, up from 1,700 tonnes in Q2 of last year.
SalMar, which is currently in expansion mood with a bid for Norway Royal Salmon, described the April-June results as satisfactory.
It said solid craftsmanship and good biological performance gave strong results in both farming in Central Norway and Northern Norway in the quarter. The main group-wide highlights included:
Negative contribution from fixed-price contracts and increased costs in connection with the completion and start-up of InnovaNor and the expansion of Vikenco weaken the result from Sales and industry.
Total operating EBIT for the period including Icelandic Salmon was NOK 661m (£54.6m) and NOK 18.05 per kilo. For Norway alone, operational EBIT was NOK 633m (£54.8m) and NOK 18.44 per kilo.
SalMar maintains its expectation of a harvest volume for 2021 of 163,000 tonnes for Norway and 14,000 tonnes for Iceland.
 SalMar has secured financing for further sustainable growth through successful issuance of green bond and private placement. The final investment decision was adopted in May and construction started for a new smolt plant in Central Norway, Tjuin.