Scottish Sea Farms set to upgrade Shetland sites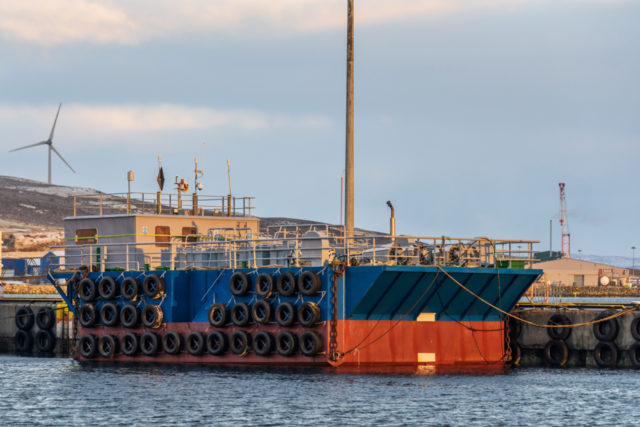 Scottish Sea Farms is investing nearly £2m to upgrade and improve its Shetland farm infrastructure. The company says the investment will better equip its farm team to improve fish welfare and survival.
The programme of works will be carried out for Scottish Sea Farms (SSF) primarily by Scottish and local suppliers. It will involve five feed barges being upgraded at Buckie-based Macduff Shipyards, at a total cost of £750,000; a £415,000 refit for the workboat Scapa Lass, also at Macduff, ahead of its repurposing as a treatment support vessel; and new pens and moorings, worth £675,000, for the company's Bellister farm.
Associated electrical and engineering support will come from Agmatek, Ocean Kinetics and the Shetland branch of ScaleAQ.
Richard Darbyshire, who was appointed as SSF's Northern Isles Regional Manager last year, with responsibility for both Shetland and Orkney, said: "Decisions are being made quicker so we get resources when they are needed. As a result, sea lice numbers at the end of week 50 were half the levels of the corresponding week in 2019. And the fish were significantly bigger than the previous generation at the same stage two years ago.
"This is to everyone's immense credit, given that the year was difficult due to Covid-19 restrictions. But we can't be complacent and have ambitious targets to reach on fish survival, fish size and costs in 2021."
Engineering Manager Keith Fraser said the barge upgrades involve blasting and repainting, as well as the fitting of cameras in the feed hoppers to assist remote feeding. He added: "Health and safety standards are also being upgraded, with automatic fire-fighting equipment in the engine room, plus automatic bilge pumps and bilge alarms. This will enable the generator to start automatically if water enters the barge, providing 24-hour protection."
SSF said it aims to achieve 95% fish survival and an average harvest weight of 5.5kg for all its locations.
Meanwhile, SSF is also piloting an innovative hybrid power system aboard one of its feed barges, dramatically reducing fuel consumption, carbon emissions and operating costs.
Designed, built and monitored by Aqua Power Technologies, the hybrid concept has been shown to offset 32,408kg in carbon since the pilot began in September, comparable to the weight of a standard fuel tanker of 32,000 litres. The barge is based at SSF's Spelve site.
The results, after just four months, have been "fantastic", achieving cost savings as well as environmental benefits, according to Spelve Farm Manager Alan Tangny. He said: "We used to be filling our diesel tank at least once a week and now we're probably getting four times longer between fills."
The hybrid system switches between diesel and battery power, using the former only at times of highest demand and running on the batteries – which the diesel engines charges – the rest of the time.
Hybrid technology is now established for road vehicles, but SSF believes this is the first time it has been deployed at a salmon farm.