Scottish Sea Farms on environmental award shortlist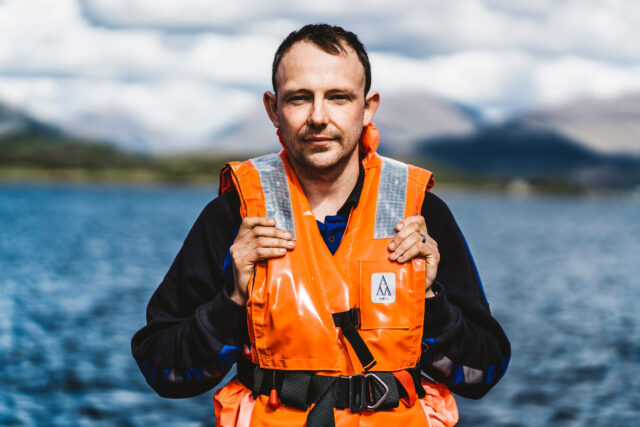 Salmon farmer Scottish Sea Farms is on the shortlist for a prestigious award that recognises corporate contributions to sustainability and good environmental practice.
SSF is among 12 companies shortlisted for an "Outstanding Achievement Award" in the VIBES awards, a programme under the auspices of the Scottish Environment Protection Agency (SEPA).
The company has been recognised for a package of measures aimed at reducing carbon emissions, including installing an innovative "hybrid" power system on one of its feed barges, at SSF's Loch Spelve site, combining diesel and electric power. The system was designed, built and monitored by Aqua Power Technologies and has achieved a significant reduction in diesel fuel use.
SSF's Loch Spelve Manager, Alan Tangny, described the results as "fantastic".
Also shortlisted was the Polycrub Company, based in Shetland, which works with the aquaculture industry to reuse and recycle waste pipe. These are incorporated into a material that can withstand winds of 120 miles an hour, making it suitable for growing fresh produce in otherwise hostile environments.
The VIBES Awards winners will be announced at a virtual ceremony on Tuesday 19 October at 10.30am.
The event is backed by key economic and business development agencies and leading environmental bodies including The Scottish Government, SEPA, Scottish Enterprise, NatureScot, Scottish Water, Zero Waste Scotland, South of Scotland Enterprise, Highlands and Islands Enterprise and the Energy Saving Trust.
Terry A'Hearn, CEO of SEPA and head of the VIBES judging panel said: "In a few weeks' time the eyes of the world will be on Scotland as global leaders gather to accelerate the actions required to address the enormous climate challenges we face [at the COP26 conference in Glasgow].
"VIBES – Scottish Environment Business Awards, linked to SEPA's ambitious 'One Planet Prosperity' strategy, recognise Scotland's leading businesses who show a real commitment to sustainable goods, products and services through leadership, innovation and ambition.
"I would like to congratulate all the finalists who have shown Scotland can be at the forefront of finding sustainable solutions to tackle the climate emergency."