Scottish Sea Farms installs 160m pens at Mull site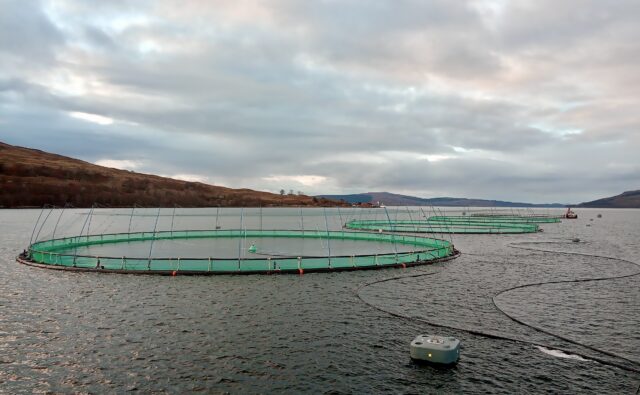 Salmon producer Scottish Sea Farms has installed four 160m pens, its biggest to date, at Fishnish off Mull, in a move aimed at improving fish health and welfare, employee safety, and operational efficiency.
Where previously Fishnish had ten 100m pens, there are now just four 160m pens capable of supporting the same biomass and delivering several key benefits in the process, said Farm Manager Alastair Fraser.
"The new £1.3m set up promises more room for the fish, better water flow, and better oxygen, all of which will help the salmon thrive. Dealing with four pens instead of 10 also gives us more time as a farm team to focus on fish health and biological control. We can carry out any treatments faster, as it's often the number of pens that takes time, as opposed to the number of fish."
The advances in terms of employee health and safety look set to be every bit as significant, the company believes.
Area Manager for Mull Andrew MacLeannan said: "Fishnish is one of the highest energy sites on the mainland in terms of weather and current speed, so when we were looking to upgrade the farm infrastructure, it made sense to go for the larger pens because they're renowned for less movement in the weather.
"The bigger the pen, the heavier the mooring and the easier it's going to be to make it safe, both for the team and the fish.
"All the lifting will be done by winches, with 10 fitted to each walkway, which can be remotely controlled from a boat. Fishnish is first to switch to 160m pens
"It's an optional extra but further adds to the safety of the staff and fish, as it gives us more control over the netting systems."
To familiarise themselves with the new 160m pens – supplied by ScaleAQ complete with moorings and HDPE Midguard knotted nets designed to deter seals – MacLeannan and Fraser made two separate trips to Norway to observe operations at Leroy and SalMar, which both use the larger pens.
"The farm team were a wee bit apprehensive at first but excited too," said Fraser. "It's been a new challenge for us all, and a big learning curve, but with Scale AQ's help it's actually been quite straightforward."