Scottish salmon stars in new M&S campaign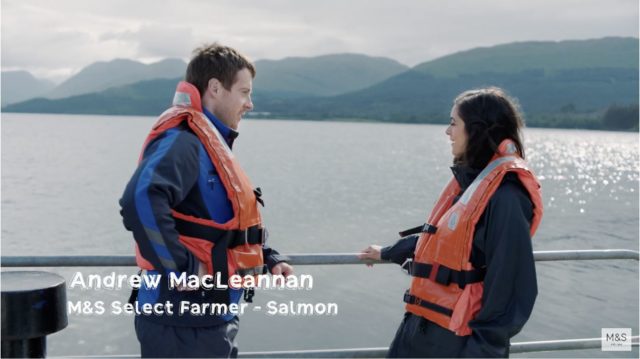 SCOTTISH salmon is the star of a new advertising campaign by Marks & Spencer, aimed at promoting the retailer's fresh food.
In the commercials, ITV weather presenter Lucy Verasamy visits a range of M&S farms to meet the people behind its produce.
The campaign, Fresh Market Update, has also featured raspberry, strawberry and tomato farmers.
Last night, it was the turn of Scottish farmed salmon, exclusively grown for M&S by Scottish Sea Farms.
The firm's Andrew MacLeannan – a former winner of the M&S 'Farming for the Future' Young Producer Award for his role in supplying farmed salmon to M&S – answered Verasamy's questions about how and where the salmon is grown.
The advert was one of four focusing on farmed salmon, two farm oriented with MacLeannan, and two recipe oriented, featuring chef Chris Baber.
Commenting on the new campaign, Scottish Sea Farms' managing director Jim Gallagher said: 'We're immensely proud to have been the exclusive grower of M&S farmed salmon for over 12 years now and to have seen customer demand grow and grow during that time.
'The new commercials give a glimpse into what makes our salmon so special: from farming locations that have been hand-picked for their ideal growing conditions, to the care and passion of our people, and the focus on fish welfare throughout.
'To see the results of that care, passion and focus now feature amongst the best of M&S fresh food is hugely rewarding for all involved but perhaps no one more so than the farm teams working out on the farms all year round and in all weathers.'
The 60-second commercials are scheduled to air after the early evening ITV national weather bulletins, thought to reach more than four million people each day, at 18:45 Monday, July 15, to Thursday, July 18.
You can see all four adverts here: https://www.youtube.com/user/marksandspencertv