Scottish salmon exports grow £50m to £500m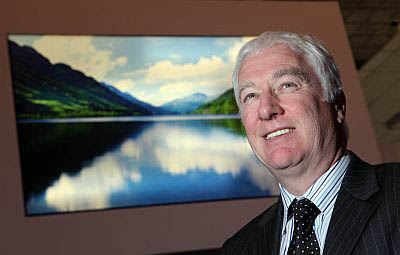 FIGURES released today reveal that exports of Scottish salmon grew by £50 million last year, reaching £500 million for the first time ever.
The announcement comes as Scotland's salmon farmers head out to the Seafood Global Expo, the world's largest seafood exhibition held in Brussels, to bring back more business, leading to jobs and continued investment for communities across Scotland and the rest of the UK.
Scottish salmon is Scotland's number one food export and for the first time last year it became the UK's biggest food export.
Production of Scottish salmon was in excess of 160,000 tonnes and it was enjoyed in more than 65 countries.
The USA remained the top export destination, with sales growing to almost £215 million, followed by France, which added an extra 55 per cent in volume, increasing sales to £110 million.
China, an important emerging market, continued to return amazing growth from virtually nothing in 2011 to reach almost £65 million, with an extra 40 per cent in volume last year.
Scott Landsburgh (pictured), chief executive of the Scottish Salmon Producers' Organisation, said: 'We are delighted with the reception Scottish salmon receives at home and abroad, and these latest figures prove how demand continues to go from strength to strength.
'We use the strictest production standards to produce the highest quality salmon, which is why Scottish salmon was awarded 'best farmed salmon in the world' by an independent poll of international seafood buyers for the second consecutive time last year.
'This accolade is a testament to our dedicated salmon farmers and is obviously great news for rural communities where we farm and the wider Scottish economy, which continues to benefit from jobs, significant capital investment and ongoing community support provided by our industry.'
But he said 'growth can only continue if new development consents are approved.  Competition from other salmon producing countries is fierce, and they are always ready to claim a greater share of the market place.'
Scottish rural affairs minister Richard Lochhead said: 'Scotland is blessed with an outstanding natural larder, and these latest figures highlight the increasing global appetite for the premium and sustainable salmon and seafood produced in our pristine waters.
'The Seafood Global Expo is the ideal platform to showcase to international buyers the top quality and award winning salmon and seafood Scotland has to offer, and I am extremely pleased to see so many Scottish producers and processors attending the event this year as Scotland celebrates our Year of Food and Drink.'
Chief executive of Scotland Food and Drink James Withers said: 'Scottish farmed salmon is a huge success story now and it is a great model for other food exports to follow.
'The industry has embraced world class production standards and developed a product that can surpass the competition anywhere.
'Having been voted the best farmed salmon in the world last year by retail and foodservice buyers, the sector has kicked on again.
'This growth is being driven by more than just the quality of the product itself though; it is about a powerful and authentic provenance story which is now driving growth right across Scotland's food and drink sector.
'If we continue to support the growth of the sector at home, we'll see more international success and recognition in the years to come.'
Craig Anderson, managing director of the Scottish Salmon Company, said: 'Sales of Scottish salmon are increasing as customers across the globe experience its high quality and delicious taste.
'As one of the leading producers of Scotland's finest salmon we have a strong focus on the export market, already supplying 23 countries globally.
'We are looking forward to building our relationships with new and existing customers from across the world at the Seafood Expo Global, where we will be showcasing our delicious salmon as well as talking about our innovative production methods.'
Jim Gallagher, managing director of Scottish Sea Farms, said: 'We are in the business of producing high quality, healthy seafood with sustainable farming practices and these figures reflect that the demand continues to grow for our products from all markets.
'We have an ambition to continue to grow our production in Scotland and we are ready to invest in creating further sustainable jobs.
'Our investment with Scottish suppliers continues in order to meet the increased demand we have from existing markets and customers.  We welcome the many new opportunities that are presenting themselves to us on an ongoing basis.'
Seven companies – Scottish Sea Farms, the Scottish Salmon Company, Marine Harvest Scotland, Cooke Aquaculture Scotland, Wester Ross Salmon, Loch Duart Salmon and Scottish Quality Salmon -will be at the seafood show which runs from Tuesday, April 21 to Thursday, April 23.