Scottish salmon exporters count the cost of Covid-19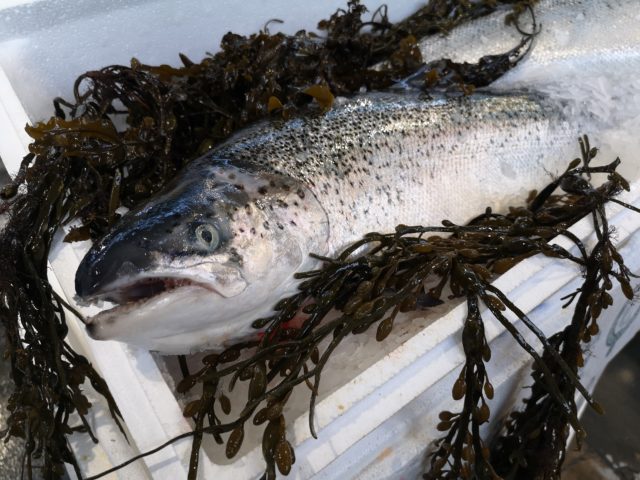 Exports of salmon from Scotland fell 23% during 2020, figures compiled by HM Revenue & Customs show. The figures show that the Covid-19 pandemic had a significant effect on the sector.
During 2020, 72,155 tonnes of salmon were exported from Scotland, compared with 2019 when 94,315 tonnes were exported.
By value, sales of whole, fresh Scottish salmon were down £168m in 2020 to £451m, from £619m in 2019, a fall of 27%.
Commenting on the figures, the Scottish Salmon Producers Organisation (SSPO) said the impact of the pandemic, which shut food service outlets around the world, together with greatly restricted air transport, hit distant markets the hardest.
Scottish salmon sales in China were down 76 per cent by value and down 42 per cent by value in the US.
The reduction in availability of long haul air transport meant that producers focused increasingly on European markets. Exports of Scottish salmon to the EU became more important in 2020, accounting for 69% of all global sales by volume (50,000 tonnes) and 64% by value (£288m), up from 56% and 52% respectively in 2019.
SSPO Chief Executive Tavish Scott said producers were confident exports would revive as markets opened up and that 2021 would be a good year for the sector, but he warned that the greater emphasis on selling to Europe has now left producers even more vulnerable to the problems that have arisen after the end of the Brexit transition period.
He said: "The last year has been a bruising time for the Scottish salmon sector, as these new figures show. Our producers have battled really hard to get salmon to their customers around the world, against really strong headwinds.
"But now that the UK has left the EU and the full implications of Brexit are clear, our members are suffering from the burden of excessive bureaucracy and red tape which is making it difficult for them to compete in the European market.
"That is why we appealed to both the UK and Scottish governments to come together with experts from across our sector and supply chain, to find ways of streamlining the red tape and giving our members the certainty of getting fish to the EU markets on time."
Earlier today the new Scottish Seafood Export Taskforce, which includes UK and Scottish government representation and industry leader, had its first meeting in an attempt to resolve problems that have bedevilled exporters from 1 January.