Scotland's razor clam racket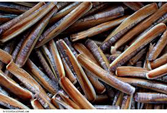 AN ORGANISED crime racket taking place off the coast of Argyll is believed to be making upwards of £65,000 a day in sales of illegal razor clams.
Using illegal fishing methods and taking razor clams from unclassified waters, the activity has been described as more lucrative than the illegal drugs trade.
On Thursday last week a multi-agency operation run from Oban, involving Police Scotland, Marine Scotland, Argyll and Bute Council public protection services and the Health and Safety Executive, kicked into action to clamp down on electro-fishing for razor clams off the coast of Argyll.
Using air, sea and land resources, the on-going aim is to target fishing vessels suspected of electro-fishing for razor clams from unclassified waters – rendering them legally unfit for human consumption.
DCI Calum Young of Police Scotland's L Division said: 'They have a generator on the boat and deploy electrodes and probes on to the seabed and run them along the seabed, 10-15 metres deep.
'The electricity stuns the razor clams and divers walk behind the boat scooping the clams up.
'Many of the divers are known to be of eastern European origin and there is concern that they are being exploited and their personal safety is in danger – because of the proximity of electricity in water.
'There is a major concern that we will be faced with fatalities in the waters off Argyll and Bute.'
It is estimated that illegally active fishing boats are taking between 500-600kg of razor clams a day, which are shipped away within 24 hours, having somehow obtained legal paperwork along the way, from Glasgow airport to Asian markets via Singapore. A legal boat might recover one-two kilos a day.
'The money to organised crime and criminals is significant,' said DCI Young. 'It makes more than drugs does.
'When these skippers are approached they throw any evidence of electro-fishing over the side of the boat.
'It makes it difficult for Marine Scotland to evidence what they are doing – we put our divers down to recover any evidence that there has been electro-fishing.'
It has been illegal since 1998 to use electro-fishing methods but earlier this year the Scottish Government brought in tougher licensing measures.
Marine Scotland said the extent of razor clam beds on the west coast was not kown.
Police Scotland confirmed one boat had been stopped on Thursday under suspicion of being involved in electro-fishing. Inquiries into the ownership of the boat are understood to be on-going by Marine Scotland.