Scotland gives Mowi huge Q2 boost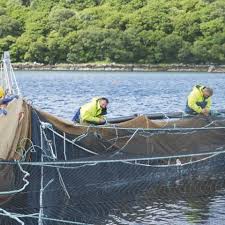 THE world's biggest salmon farmer, Mowi, is reporting significantly increased harvest volumes from its Scottish salmon farms, according to its 2019 second quarter trading update, published yesterday.
The output from its Farming Scotland division between April and June has totalled 16,000 tonnes, compared with 9,000 tonnes this time a year ago – a rise of more than 70 per cent.
The company's smaller Irish operation also performed well and doubled its harvest from 1,000 to 2,000 tonnes.
In fact, most of Mowi's farms around the world, apart from Canada, have increased second quarter production.
Farming Norway is up by more than 3,000 tonnes to 51,500 tonnes, and Chile is one of its top performing operations, up by 5,000 tonnes to 15,000 tonnes.
The total operational EBIT or gross profit for the group is approximately €208 million in Q2 2019, against €175 million in Q2 2018.
The EBIT from Scotland has also increased, up from €2.35 per kilo in Q2 2018 to €2.90 per kilo this year. But the EBIT from Canada and Norway has fallen slightly this time.
Mowi's total Q2 volume is likely to be 98,500 tonnes. The company's second quarter results will be published on August 21 and, because of the higher harvest volumes from the likes of Scotland, are expected to be positive.
The full 2019 Q2 harvest volume figures are:
Farming Norway 51,5000 tonnes
Farming Scotland 16,000 tonnes
Farming Canada 12,500 tonnes
Farming Chile 15,000 tonnes
Farming Ireland 2,000 tonnes
Farming Faroes 1,500 tonnes
Total 98,500 tonnes