Scotland backs Norway in fish crime fight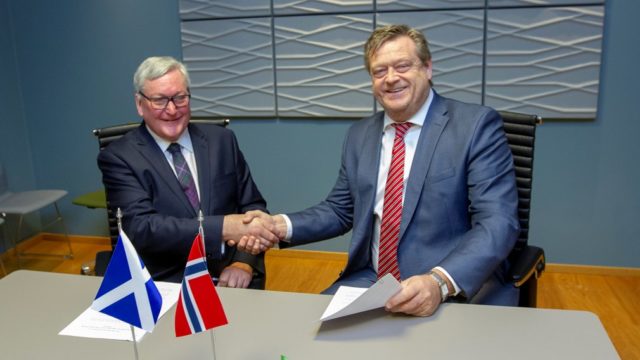 SCOTLAND and Norway have agreed an initiative to combat global fisheries crime. Such activity affects both conventional fishing and aquaculture, but it is thought the majority of incidents involve illegal sea fishing and fish smuggling.
The deal, led by Norway and which is now supported by 26 countries, was signed yesterday by Scotland's fisheries minister Fergus Ewing and his Norwegian counterpart Harald T. Nesvik.
Both men said they knew there were incidents of serious crime within the seafood sector, but if there were to be effective measures against it, then the two countries must stand together.
Nesvik added: 'That is why I am pleased we are bringing Scotland on to the team.'
A joint statement said there was serious organised fishing crime around the world which could only be combated through international co-operation.
Norway said it is working to get the UN General Assembly to recognise fisheries crime as a problem, and the international declaration, which Scotland joined yesterday, was still the only worldwide initiative in this field, which is why it was so important.
Organised seafood crime not only threatened world resources, but also created unfair competition and punished honest players, the statement added.
Norway recently allocated NOK 14 million (around £1.2 million) to combat the problem and next year, in collaboration with the UN, it will host a conference to promote a fair and sustainable blue economy.