Saving the environment… and your bottom line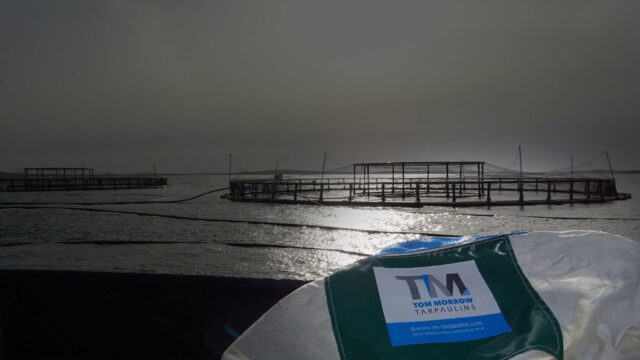 Find out how Tom Morrow's sea lice barriers can revolutionise your aquaculture operation
Ask any aquaculture specialist what the biggest issues are facing fish farms today, and you're guaranteed that sea lice will be amongst the first words out of their mouth.
Research published by the Scottish Government earlier this year shows that sea lice are found in far greater concentrations around salmon farms than they are in wild salmon and trout populations.
So clearly, work needs to be done to protect stock from harm.
Tom Morrow Tarpaulins is at the forefront of sea lice prevention techniques – developing innovative tarpaulin-based solutions that reduce the need for chemical usage. The company's bags, screens and skirts are handmade using the highest quality materials to last longer – and perform better – than any other on the market.
Director Gary Cunningham said: "We supplied a new lice barrier screen to one of our clients in March this year. Since then, they haven't had to undertake any lice treatments on their fish – but in a normal year, they would have had to start treatments over the summer.
"Our screens can make a huge difference to fish health and reduce requirements for chemical treatments. This not only has benefits for the environment, but also makes financial sense, as our hard-wearing tarpaulins are less likely to need to be repaired or replaced."
With more than 50 years' experience in the team, Tom Morrow Tarpaulins is a world leader in providing sea lice prevention solutions to the aquaculture industry. From its base in the Scottish Highlands, the firm works with clients across the UK – and around the world in the likes of Canada, Norway, Australia, Spain and Hawaii – to provide a tailored service that builds on a wealth of technical knowledge.
The customers' needs are always at the heart of everything the team does, and its product range has been designed in conjunction with industry partners who each have unique problems to solve.
Archie Johnstone, freshwater lochs area manager at Mowi, said: "We have used Tom Morrow tarps in freshwater for around 15 years – as well as polytunnel recovering and having bespoke tarps created to line sumps. I have always found them to be very helpful and innovative. The quality is very good and they will always help out if they can, even at short notice."
Director Marcus Sanctuary added: "It's important to us that our products are strong and hard-wearing – allowing our clients the peace of mind that their fish are safe and well protected from sea lice.
"We have spent a great deal of time and effort to source the best quality components we can to live up to the reputation we have built, ensuring every material – down to the thread – is rigorously tested.
"We don't believe in a 'one size fits all approach'. Instead, we work alongside our clients to ensure the design, manufacture and delivery of each product fits their needs exactly. In doing this, we use no heavy machinery in the manufacturing process. Every item is handmade and closely inspected to guarantee a quality product."
Sea lice barrier screens
Tom Morrow Tarpaulins has been developing sea lice barrier screens for a number of years and is recognised as producing the most reliable and long-lasting products on the market.
The team has worked extensively with the industry to create products which are well constructed and simple to deploy. Their unrivalled strength and longevity ensure salmon are protected from sea lice for many cycles and reduce the requirement for regular repairs.
The firm is also currently developing a new brand of freshwater screens. Taking advantage of an impermeable top layer, the new screens afford the same functionality as traditional barrier screens, while also allowing the top portion of the tank to be filled with freshwater for feeding and delousing.
Treatment tarpaulins
Customer testimonials consistently show Tom Morrow Tarpaulins' cones and bags to outlast other leading brands, providing a level of strength and durability that is unmatched in the marketplace.
The firm's first treatment cone – constructed over a decade ago – is still in regular use and, thanks to quality aftercare and service from the team, is expected to last for many more years to come.
The tarpaulins are designed to be as simple as possible to use, made from high quality locally sourced materials.
Freshwater treatment and storage bags
Tom Morrow Tarpaulins is no stranger to innovation and is continuously working to create new products to satisfy the ever-changing demands of the salmon production industry.
Constructed from various strong grades of PVC, the firm's treatment and storage bags are built to last. But never ones to rest on their laurels, the team is constantly on the lookout for new, innovative materials to work with – including its new marine-spec anti-abrasion material. This provides exceptional wear resistance and increases tarp life span, reduce the need for any costly repairs or replacements down the line – and showcasing Tom Morrow's commitment to the future of the industry.
For more information about Tom Morrow Tarpaulins, and its innovative range of high-quality sea lice prevention products, visit www.tm-tarpaulins.com