Salmon surge sends UK exports soaring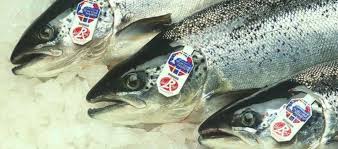 FARMED salmon continues to play a vital role in the UK's exporting success, as total exports for Scottish food and drink reached a record £1.4 billion in value for the first quarter of the year.
The latest figures show that exports grew by 14 per cent over the past year, driven by a surge in sales for Scotch whisky and salmon, AgriLand reported.
Overall, food and drink exports from Scotland reached £6.3 billion last year, with Scotch whisky accounting for three-quarters of this total.
Food minister David Rutley, visiting the Royal Highland Show earlier this week, said: 'British food and drink is highly sought after around the world, with Scottish whisky, salmon and gin playing a vital role in this exporting success.
'In the years ahead we can unlock new export markets for our finest British produce.'
British whisky sales, almost all from Scotland, rose by 19 per cent (£183 million) at the start of this year.
Salmon exports were up by 41 per cent – the strongest growth of all the top 10 UK food and drink products.
This represents a 20 per cent increase in the volume of farmed salmon being exported from Scotland.
International trade secretary Dr Liam Fox said the Department for International Trade 'stands ready to help Scottish businesses succeed overseas in ways that never happened before'.
'I urge more businesses to get in touch and take the first step toward breaking into international markets.'