Salmon slaughter ship row goes to court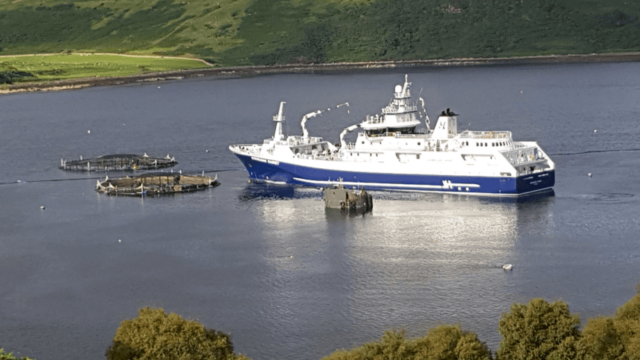 AN intriguing civil court case is underway in Norway involving the owners of the Danish owned salmon slaughter ship Norwegian Gannet and the government in Oslo.
The Hav Line is seeking compensation of up to 700 million kroner (£55 million) from the Ministry of Trade and Industry over official demands that fish with deformities or that has been damaged in any way must sorted from the rest before it goes for final processing in Denmark.
The Norwegian Gannet was specially built in 2018. It carries a crew of 100 and is capable of processing 160,000 tonnes a year at sea. At the time of its launch it was hailed as revolutionising the sector by easing processing bottlenecks. Last August it was used by Mowi to take salmon from its plant on the Isle of Skye to Denmark, while in January this year the ship was sent on an urgent mission to Iceland where it helped the salmon company Arnarlax deal with fish damaged in severe storms that hit the country over a ten day period..
Now this long running legal dispute with Norway has ended up in the Bergen District Court which is currently sitting in a local hotel due to coronavirus social distancing measures, with some of the evidence being taken by video link. Two former Norwegian seafood ministers, Per Sandberg and Harald Tom Nesvik, are expected to give evidence while the case has also attracted the interest of the Danish government which may seek talks with Oslo.
Hav Line says the Norwegian Gannet had all the necessary permits and government approval in place well before it was built at a Spanish shipyard. It is accusing both the trade and fishery ministries of changing the rules and quality regulations after it had been laid down. This is one of the main thrusts in its compensation claim.
Hav Line chairman Carl-Erik Arnesen, said he hoped the case could have been settled before being brought to court, adding that Oslo's stance is threatening at least 100 Norwegian jobs at a time when unemployment is set to rise.
For its part, the government is arguing that Norway's reputation for quality salmon is at risk if it allows the export of fish with various defects or blemishes before they are put right. The case is expected to conclude by the end of this week, but it may be a while before the final judgement is known. It says it is not trying to prevent the vessel from operating, insisting that the Hav Line must abide by established Norwegian fish harvesting rules.