Salmon Scotland renews call for action on housing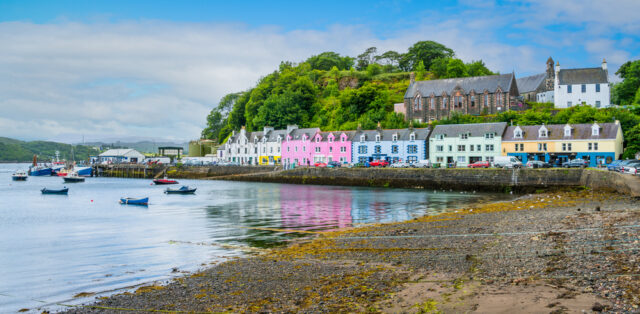 House prices in some remote parts of Scotland have surged at almost double the rate of the national average, and industry body Salmon Scotland has renewed its call for funds to be directed to rural areas to help fix the problem.
Registers of Scotland data shows that while house prices across Scotland rose by 89% in 2022 compared to the 2004 baseline, the increase was as high as 168% in some remote areas.
Salmon Scotland's analysis found that price rises were above the national average in Argyll and Bute, the Highlands, Orkney, Shetland and the Western Isles. Spiralling housing costs are a problem for local residents and also for employers, including fish farmers and others in the seafood supply chain.
Salmon Scotland chief executive Tavish Scott will highlight the challenge in a keynote speech today (FRI) at the Rural Housing Scotland conference in Dunkeld.
He is arguing that that businesses are struggling to recruit and retain workers and has called for £10m of the money paid by salmon farmers in government rents to be ringfenced for direct investment in rural housing.
Scott said: "A lack of affordable housing is stopping the Highlands and islands from becoming a northern powerhouse.
"Salmon farming companies are using their own money to provide warm, comfortable, quality accommodation for people who fill essential roles. We also use rentals, B&Bs and hotels which contribute to the local economy all year round.
"But the salmon sector can't solve this crisis alone – urgent action is needed to address the most pressing issue we face across the Highlands and islands.
"That's why we suggest that £10m of the money that salmon farmers pay to the landlord Crown Estate Scotland could be invested in tackling the housing crisis."
Challenging situation on Orkney
Cooke Aquaculture Scotland employee Norman Peace counts himself lucky to have found a home for his growing family on the Orkney island of Stronsay. When he moved there from Orkney's Mainland to take up a promotion, Cooke provided a four-bedroom house.
Now almost three years later, Norman and girlfriend Nicole Ross take an active role in community life and are looking forward to the birth of their second child in June.
Peace, Site Manager at Cooke's Mill Bay organic salmon farm, said: "There's not really that many houses readily available either to buy or rent.
"Without the relocation support from Cooke I would have struggled to get a house. It was one of the better houses available at the time and Cooke helped with renovations as well.
"The lack of housing affects a lot of the islands.
"Young people leave to go to university or get a job elsewhere. With the younger ones moving, most of the islands in Orkney are ageing.
"There's more availability on Orkney mainland but not much happening out in the islands.
"We could do with more council or social housing. People are looking for houses, but they are all full."