Salmon prices slip back again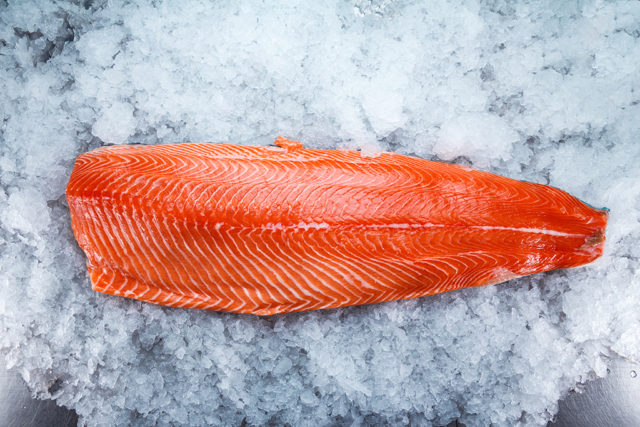 The recent surge in salmon prices, which had brought a temporary smile back to the faces of fish farmers, appears to have stalled.
According to Statistics Norway, the export prices of fresh salmon during Week 11, dropped by NOK 2.82 to NOK 59.97 a kilo and was down by NOK 3.34 from two weeks earlier.
This means fresh salmon prices are still 9.4% lower than a year ago.
Frozen salmon prices also fell back slightly from NOK 51.12 to NOK 50.92 a kilo.
Prices had been showing an upward trend until a few days ago and some observers thought that situation might continue over the Easter holiday.
But a number of European countries, notably France, one of the largest buyers of salmon, are experiencing a new coronavirus wave and have gone back into lockdown or near lockdown which may have had a dampening effect on demand.
All eyes will be on Scottish (and Norwegian) price levels from the end of May onwards, as the UK is due to reopen its hospitality sector in gradual stages from the middle of next month. In England, for example, it is hoped that hospitality venues will be able to serve customers outdoors from 12 April, while in Scotland it is expected there will be limited reopening, indoors and outside, for hospitality venues from 26 April. The loosening of lockdown measures will be dependent, however, on the progress made in controlling the pandemic.
Germany was also due to have stepped up restrictions over the Easter holiday, but Chancellor Angela Merkel has relented on this, so prices could pick up again next week.
There was better news on Norwegian salmon exports last week with shipments rising by 4.4% to 17,699 tonnes. Frozen salmon exports, however, dropped by 21 per cent to 276 tonnes.
Meanwhile, there is no shortage of potential supply. The standing biomass in Norway at the end of February was 824,146 tonnes, up from 771,894 tonnes a year earlier, an increase of just over 9%.