Salmon price surge continues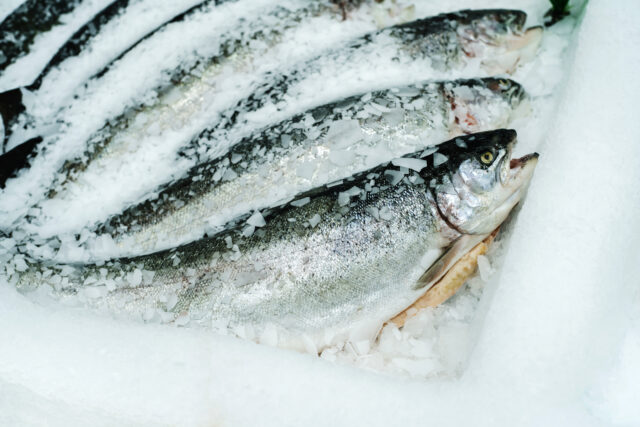 Fresh salmon prices have shot back up close to the near record levels of three weeks ago , Statistics Norway is reporting.
But the big surprise was a 20% jump in the price of frozen salmon, which is now almost on a level with that of its fresh equivalent.
The main reasons for the surge in prices are a tightening of supply and strong demand, both of which are expected to continue for some time. Market sources suggest that Scotland is also seeing a big rise in prices.
The war in Ukraine and sanctions on Russian seafood have played the biggest part in unsettling the market.
Fresh and chilled salmon reached an average of NOK 83.53 a kilo (£7.28) last week (week 12), up 6.7% on the previous week. Norwegian exports totalled 17,129 tonnes, marginally down on week 11.
Frozen salmon exports rose by 145 tonnes to 397 tonnes last week while the price hit a record NOK 83.13 (£7.25) from 68.99 a kilo (£6.02) a week earlier.
The uncertain international situation is clearly affecting seafood prices and it is not only salmon that has become more expensive.
The media in Iceland are reporting that both fresh and frozen cod prices have skyrocketed in the past couple weeks following heavy duties being imposed on Russian whitefish.
The UK has imposed a 35% duty on Russian seafood which is also creating problems for the fish and chip shop sector. Even before war broke out, however, frozen cod in the UK had almost doubled in price.
The Statistics Norway salmon price includes all weight classes, qualities and all fish sold, including fish sold on contract.