Salmon farmers lead investors' ethical list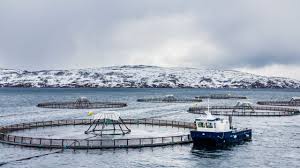 TWO Norwegian salmon companies have topped an investor group's new sustainable food producers' index, which is based on criteria such as use of antibiotics, animal welfare and food safety, Reuters reported today.
Marine Harvest and Leroy Seafood Group led the first Coller FAIRR (Farm Animal Investment Risk amd Return) Protein Producer index, which was launched on Wednesday and measures 60 global intensive farming companies against eight criteria.
Investors are increasingly judging companies according to ethical, sustainable and governance criteria, which they say are important factors in company performance, said the report.
'Investors need ESG [environmental, social and governance] data and transparency to make better investment decisions, yet this information is lacking in the meat, fish and dairy sector,' said Jeremy Coller, chief investment officer of Coller Capital.
'As megatrends like climate change, antibiotic resistance and food technology radically reshape the way we produce and consume meat, fish and dairy, the Coller FAIRR index will help institutional capital identify both best in class companies and potential stranded assets in the food sector.'
The FAIRR group is backed by $5.6 trillion in investment assets.