Salmon farmers keep fresh food on the table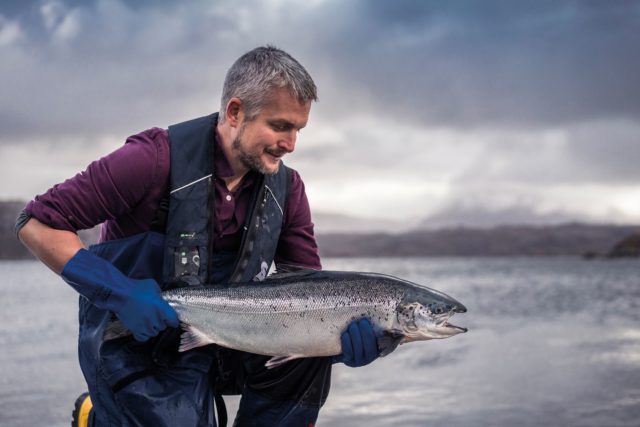 SCOTLAND'S salmon farmers are continuing to supply fresh produce to consumers during the coronavirus crisis despite increasingly challenging conditions.
Those working on farms and throughout the supply chain are being provided with appropriate safety and hygiene protection and guidance, according to a statement issued by the Scottish Salmon Producers Organisation (SSPO) this morning.
'The critical focus is public health and protecting our workers as they continue to farm our salmon,' said Hamish Macdonell, the SSPO's director of strategic engagement.
'It is also important to maintain the supply of fresh salmon to UK consumers.  Advice from government highlights key steps that must be taken to help ensure that companies can stay open.'
Macdonell said salmon farming companies were adapting their ways of working, and all workers who could work from home were doing so.
'Social distancing is imperative at every workplace, from farms to processing.  This is more challenging and changes will be required.
'The SSPO is also recommending that companies draw up a full list of measures for everyone to adhere to. All steps taken to protect workers must be demonstrable.
'Ferries are extremely busy with freight, so salmon farming companies are being advised to keep in close communication with the ferry companies to manage the transportation of fish and workers.
'The guidance is being updated daily but the sector is working hard to safeguard their workers and to keep the supply of fresh salmon reaching consumers.'
Earlier this week, the SSPO joined other Scottish food and drink organisations to urge ministers in Edinburgh to clarify the definition of 'key workers'.
Category one key workers are mostly health staff; recognised as being on the frontline in the fight against the coronavirus outbreak, they qualify for continued child care.
In England, Wales and Northern Ireland, national advice has been issued identifying key workers as including those involved in the production, delivery and sale of food.
But in Scotland it has been left to the 32 local authorities to make a case by case decision on individual businesses and groups of workers.
An SSPO spokesman said today that food producers are termed 'essential businesses'. Scotland Food and Drink, along with other trade associations, is advising companies to strip staffing back as far as possible, and to demonstrate social distancing and home working in order to stay open.
Some are thinking of giving staff official company letters to show, if asked, that they are designated staff still working in a food business.
In other news, Emirates is grounding all passenger flights from today, initially to last for a period of 14 days, according to the airline's website.
Cargo services will be exempted, said the UAE carrier, but the decision is likely to impact salmon freight, which is transported in passenger planes from Glasgow to Dubai.
Logistics giant Schenker's head of air freight, Morten Würgler, was quoted by Salmon Business yesterday as saying the cost of air freight in general is much higher than 50 per cent more than before the crisis.
A Scottish seafood industry spokesman said there had been no move to pay for empty passenger planes to transport Scottish seafood at present because demand is so low.
'Food still seems to be getting in, particularly into Europe, and the cargo planes are still going, but it doesn't make sense to send six boxes of fish across the world at the moment,' the spokesman added.