Salmon farmers in talks over wild fish fund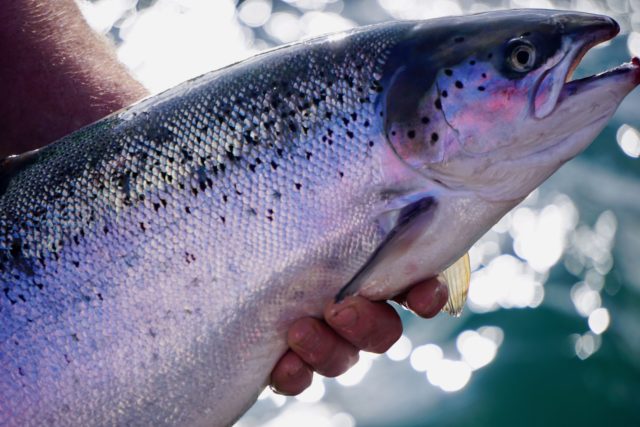 REPRESENTATIVES from the Scottish salmon farming sector and fisheries trusts have been holding talks aimed at establishing a fund to help halt wild stock decline.
The ongoing bilateral discussions, between the Scottish Salmon Producers' Organisation and Fisheries Management Scotland, have focused on salmon conservation, according to the minutes of the Salmon Interactions Working Group.
The group was set up in 2018 by rural economy minister Fergus Ewing to find a common approach between aquaculture and wild salmon leaders, particularly in relation to sea lice management.
However, the negotiations over a salmon fund are taking place outside the group, according to industry sources.
The fish farming industry is believed to be talking about investing money and time in helping to improve the habitat of rivers and estuaries.
Minutes from the September meeting of the interactions group reported that the bilateral discussions between the SSPO and FMS had been 'positive and productive'.
'It was agreed that neither FMS nor SSPO wished to be having the same discussions on interactions in five years' time and that both parties were committed to making tangible progress with meaningful outcomes,' the minutes recorded.
In an earlier meeting of the interactions group, the possibility was mooted of raising money by fining farmers for escapes.
'There was general consensus that imposing penalties on those responsible should be taken forward.'
The monies raised from penalties would be put back into wild salmon and trout conservation projects, but there was an acknowledgment that this might be challenging from a legal and judicial process perspective.
The interactions group includes members from individual salmon farming companies, as well as the SSPO, along with representatives from government agencies such as Marine Scotland, the Scottish Environment Protection Agency, and Scottish Natural Heritage.
Salmon fishery boards and Fishery Management Scotland represent wild salmon interests on the group. The British Trout Association also takes part.
The chairman, John Goodlad, was positive that the two sectors could agree on recommendations that would then be sent to ministers for consideration within the next few months.
'The impact of fish farming on wild populations is clearly a difficult and controversial issue with strong views held on all sides,' he told Fish Farmer.
He said the group, which has met six or seven times, is 'determined to make progress' and all members had put a lot of hard work into the process.
'I'd particularly like to pay tribute to the professional approach of both FMS and the SSPO; they really are both approaching this in a constructive and professional way, conscious that it is an important issue.'
Goodlad acknowledged that the interactions group was working within the wider context of a very controversial discourse, but he was optimistic that they would reach a consensus on salmon interactions that would be acceptable to both sides.
'We have built up a kind of level of trust, a consensual mentality within the group that has helped us so far.
'What we're trying to do is come up with a set of recommendations that will meet the aspirations of the wild salmon industry, but also a set of recommendations which the salmon farming industry believes they can deliver and will not compromise their businesses.'
He would not give further details, but it is believed the recommendations will cover the location of farms, as well as escapes, environment management plans, and lice loads.
While all food producers have some impact on the environment, salmon farmers were trying to minimise and reduce, where possible, the impacts fish farming may be having on wild fish populations.
And the wild fish representatives in the group accepted that salmon farms alone are not to blame for the stock decline.
'When the interactions group was established, the Scottish government identified 12 suspects that are impacting the now quite catastrophic decline in wild salmon populations,' said Goodlad.
These include predation by seals, and by birds in the rivers, and the theory that mackerel shoals are now moving north and taking the capelin and other small fish that the salmon would be eating in the North Atlantic area between Faroe, Iceland and Greenland.
'My expectation is that after this group reports then the attention will need to be focused on some of these other suspects,' said Goodlad.
'Everyone on the group acknowledges that while there is a question of environmental responsibility and a question of impact of fish farming on wild salmon, no one is saying that that is the only issue that is impacting wild salmon populations.
'We really are trying to tackle the issues head on and deal with them in a way that we can make recommendations which will have a meaningful and quantifiable impact.'
Goodlad said everyone in the group wanted their recommendations to stand the test of time so they do not have to reconvene in a few years' time.
The next meeting is due to take place in early February.