Salmon farmers help in sea rescues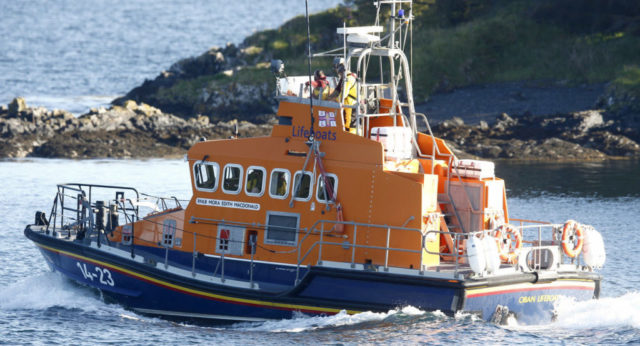 FISH farm crew and vessels have been involved in rescuing members of the public who have got into difficulty on the water near farm sites.
In an incident last month, a dinghy adrift with one person on board was recovered from Scallastle Bay in the Sound of Mull, the RNLI reported.
On Saturday, August 31, Oban RNLI Lifeboat Mora Edith MacDonald was tasked by the UK Coastguard after concerns were raised by people in Craignure for the occupant of a dinghy, which was adrift and possibly taking on water.
Oban Lifeboat launched at 6:10pm and proceeded to the reported position of the vessel, where it was discovered that the dinghy was alongside a fish farm cage.
The single occupant was transferred by one of the fish farm vessels, owned by Scottish Sea Farms, to Oban Lifeboat, where the casualty was checked by a doctor.
Following this assessment the man was taken ashore to Craignure Coastguard Rescue Team.
Meanwhile, the fish farm vessel had towed the dinghy back to shore and Oban lifeboat was therefore able to return to station where she was ready for service again by 7:45pm, said the RNLI.
The Scottish Sea Farms manager on the scene, Michael Keenan, said: 'It was a good operation as the gent got home safe and there was some fine coordination between the Coastguard, lifeboat and SSF.'
The rescue took place on the same day that anti-salmon farming activists planned a water based protest at farm sites, but an RNLI spokesman told Fish Farmer that he did not believe there was a connection.
Ahead of the campaign, aimed at west coast farm sites on August 31 and September 1, salmon farmers issued a warning letter to organisers, highlighting safety issues.
'The currents, tides and changeable weather around the Oban and Loch Linnhe areas have resulted in several instances of people getting into unexpected difficulty, sometimes with fatal results,' wrote Scottish Sea Farms, one of the farmers targeted by protesters.
'There's also a risk to our own farm teams should any key equipment or infrastructure be inadvertently moved or loosened.'
The weather on the weekend of the protest was inclement and there was little public support on the day.
Health and safety manager for Scottish Sea Farms Gerry McCormick said: 'Our overriding priority was that anyone participating should remain safe.
'To help ensure this, we had teams on standby to assist in case anyone got into difficulty while in the water.
'Only a small handful of adults and their children turned up on the day, but what matters is that each returned home safe and well – that, for us, was key.'
In a separate incident, a yachtsman and his family were rescued by staff from Mowi's site at Rum on August 22.
During a trip from Canna to Rum in rough seas and near gale force winds, the boat was disabled when lobster pot buoys wrapped themselves around its rudder.
After seeing the fish farm boat in the distance, yachtsman Andrew Bird called for assistance and his vessel was helped on to a mooring in Loch Scresort.
'It is good to know that these people are sharing the seas and are prepared to offer assistance in an emergency and have the skills to deal with difficult situations,' he later told Fish Farmer.
'I was extremely impressed with the rapid response of the Mowi crew and how well equipped they were, with a very impressive ship and RIBs and high-tech telecommunications….and the way they took the time out to tow us, in gale force conditions, in to Loch Scresort and drop us at a mooring, and later to check that we were all right.
'We were a 47ft yacht weighing 14 tonnes so it was not a simple operation in 6ft swells and winds gusting over 40 knots.'