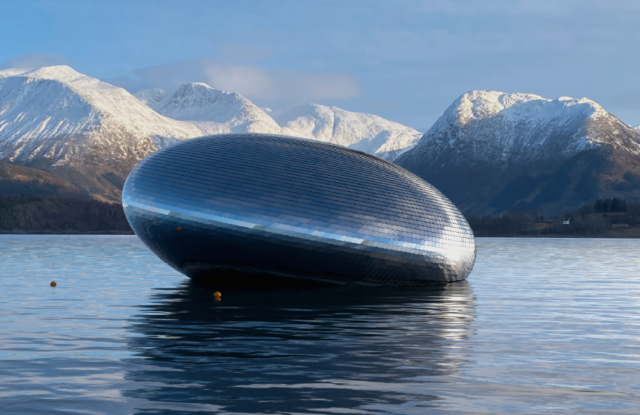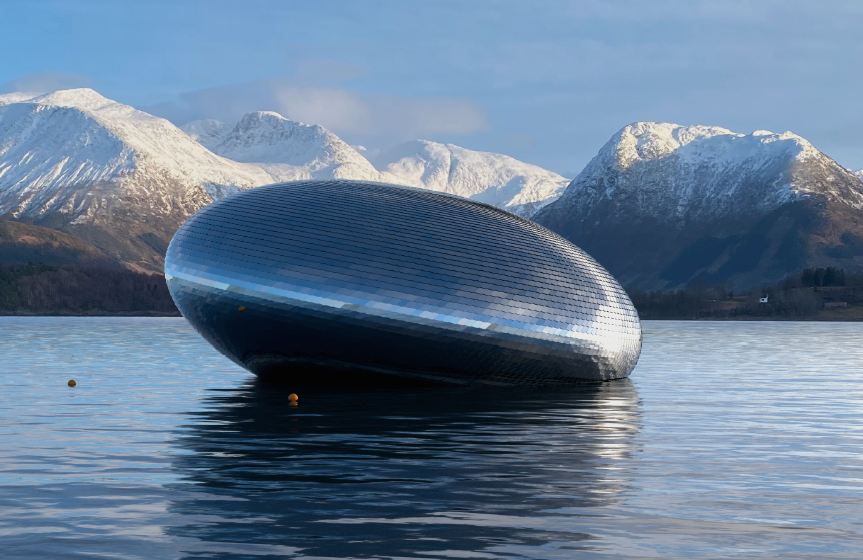 A stunning art installation is being unveiled today in a Norwegian fjord, with the aim of telling the story of sustainable salmon production.
The Salmon Eye visitor centre is 14.55 metres in height and weights 1,256 tonnes. Based in Hardanger Fjord in Hågardsneset, southwest Norway, the Salmon Eye is the creation of salmon farming business Eide Fjordbruk.
The installation has been designed to explain the impact of aquaculture and its production techniques, with an immersive audio-visual display on four levels.
Eide Fjordbruk was the first fish farming company to produce carbon-neutral salmon, and the first to present environmental accounts. The company has moved to all-electric boats and facilities, and is in the final process of developing a new closed technology, "Watermoon" which enables farming in the fjord and sea with no negative impact on the environment, climate and other species diversity in the sea. This, the company says, could be a "game changer" for aquaculture worldwide.
The Salmon Eye is a passion project for the brothers Sondre and Erlend Eide, the third generation in the family's business.
At the opening today, a number of eminent speakers will discuss the future of fish farming, including Bjørnar Skjæran and Sigrid Hagerup Melhus, Norwegian Minister of Fisheries and Deputy Minister in the Ministry of Climate; Tom Rivett-Carnac, one of the principal architects of the Paris Agreement and co-founder of Global Optimism; and Scott Lindell, Research Specialist in marine farming at the MIT/Woods Hole Oceanographic Institution in the United States.
The launch will also reveal more information about Watermoon, which is soon to be put into practice at a large-scale pilot plant.
Sondre Eide, CEO of Eide Fjordbruk, said: "The innovations for the future do not stop with Watermoon's innovations, and that's why we need a place like Salmon Eye to push the industry, government authorities and NGOs even further.
"The legacy I want for my children is for them to take over a company that helps produce sustainable food for the world's growing population, while we take care of nature and reduce climate emissions. Hopefully they will inherit a planet and a global community which will be better because of the efforts we make today.
"Only together can we win and do so quickly. We will not reach the finish line if we put our heads in the sand and pray for others to find solutions. We must work together to develop new technologies and solutions to produce more sustainable different food in the oceans to feed the world without destroying the planet and its creatures. In fact, our goal is to have a positive impact. That is why we at Eide Fjordbruk have committed the resources to fund the innovations from the Watermoon platform. We won't stop here."