Salmon Evolution signs South Korea deal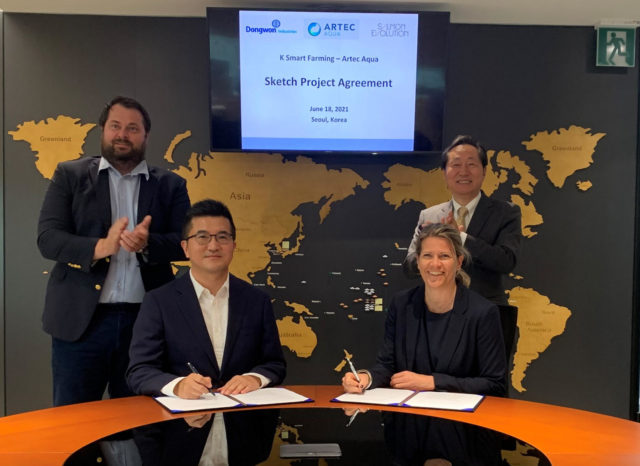 TWO key Norwegian companies have signed an agreement with Dongwon Industries for the 20,000 tonne K Smart Farming project in South Korea .
They are the land based company Salmon Evolution ASA and the specialist turnkey supplier Artec Aqua.
K Smart Farming is a South Korean company established with the purpose to develop, construct, own and operate land-based facilities for salmon farming in South Korea.
The parties said they have been working to secure data regarding the quality of the planned smolt site in Jeungseon and the grow out location in Yangyang.
As these studies have been satisfying, K Smart Farming has now entered into an agreement with the Norwegian company Artec Aqua regarding a feasibility study for the two facilities. The outcome of this study will be the basis for further concept development, detailed engineering as well as application for relevant building permits etc.
But Artec Aqua said the agreement also includes an intention for the company to conduct engineering, delivery, installation and commissioning of designed process related systems and equipment in the future build-out of the project.
The agreement was signed in Seoul, Korea with both the top management of Dongwon, Salmon Evolution and Artec Aqua precent, and shows that the progress for Salmon Evolution's involvement in South Korea is going according to plan.
Mr Håkon André Berg, CEO of Salmon Evolution said : "We are very pleased with the progress of our joint venture with Dongwon in South Korea. We are also happy to announce that the partnership between Salmon Evolution and Dongwon continues to develop.
He added: "This feasibility study is the first of many engineering and construction contracts that K Smart Farming will enter into, and we are excited to continue to work closely with Dongwon in building up K Smart Farming as a substantial land-based salmon farmer in the Korean market over the coming years."
"We are delighted to secure this feasibility study, which puts us in pole position to deliver the full turnkey build-out of this exciting salmon farming facility in South Korea," says Ingegjerd Eidsvik, CEO of Artec Aqua.
KSF is a joint venture between Norway-based Salmon Evolution ASA and Korean seafood giant Dongwon Industries Co., Ltd.
The KSF joint venture plans to develop, construct, and operate a land-based salmon farming facility with an annual production capacity of 20.000 tonnes live weight of harvestable Atlantic salmon in South Korea.
The project plans to use a hybrid flow through system technology, such as the one Artec Aqua is delivering to Salmon Evolution's land-based facility at Indre Harøy in Norway.