Salmon Evolution gearing up for year-end first harvest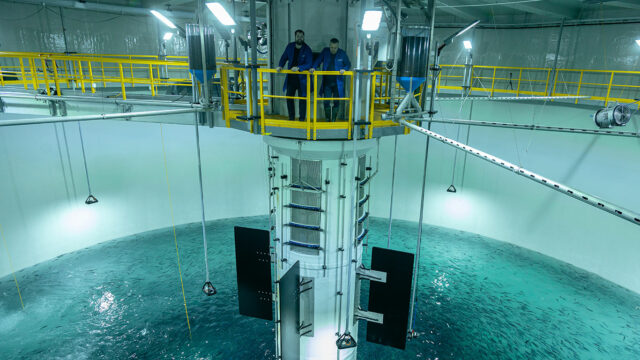 Land-based fish farming company Salmon Evolution has said it expects to complete its first harvest towards the end of this year.
Salmon Evolution announced the key target as it unveiled its first quarter results for 2022 which show a deficit of NOK 11m (£916,000) against NOK 6.6m (£550,000) for the same period last year.
Salmon Evolution's state of the art site is at Indre Harøy, north of Bergen.
The company CEO Håkon André Berg, said: "Since we started construction back in May 2020, the first smolt release has been the moment that we all have been waiting for.
" I am extremely proud of our organisation and the fact that we have been able to adhere to our ambitious timeline, even with the challenges faced us during the pandemic.
"At the same time, this is just the beginning. As we now move forward, our number one priority is the biology in our farm. Good biology will improve fish quality and translate into strong growth, which finally will be reflected in the financial performance.
He added: "With our organization now totalling almost 50 highly skilled employees, I am more confident than ever in our mission – extending the ocean potential."
First quarter highlights include:
The first fish tanks and related technical installations at Indre Harøy completed and put into operation.
First smolt batch released at Indre Harøy late March as per original timeline – next smolt release planned in Q2 2022.
Batch 1 performing in line with expectations – stable farm conditions with strong initial feed numbers and low mortality – average weight of around 725 grams as of 21 May.
Phase 1 construction continuing according to plan – phase 1 capex estimate unchanged.
Initiated phase 2 preparations at Indre Harøy – signed Heads of Terms with Artec Aqua for phase 2 build-out.
Available liquidity of NOK 1,056m (£88m) per 31 March 2022 including committed undrawn credit facilities and adjusted for April 2022 private placement.
Following the end of the quarter, the company completed a NOK 300m (£25m) private placement to partly fund the planned phase 2 build out at Indre Harøy and the smolt facility expansion.
Salmon Evolution is also working with Dongwon Industries on the development of a new RAS fish farm in South Korea. Berg said that the first Salmon Evolution employees had now relocated to South Korea to start work on the project.