SalMar's Q1 figures show strong performance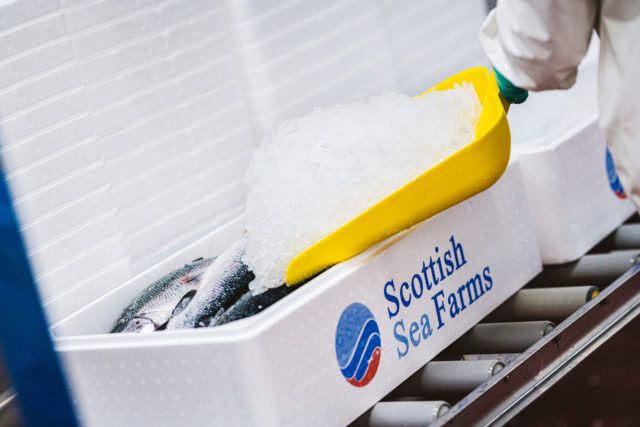 Scottish Sea Farms generated higher revenues and turned loss into profit for the Norwegian salmon giant SalMar during the first quarter of this year, figures show today.
SalMar, which announced outstanding group-wide Q1 results, shares ownership of Scottish Sea Farms (which it calls Norskott Havbruk) with Lerøy Seafood.
It previously told Fish Farmer magazine (see report, May 2021 issue) that it plans to expand its operation in  Scotland and Shetland, with details expected later in the year.
SalMar said Scottish Sea Farms generated gross operating revenues of NOK 396m (£34.5m) during the first three months of this year, compared with NOK 264m (£23m) in Q1 2019. It said: "The increase is attributable to a larger volume harvested. Norskott Havbruk harvested around 5,900 tonnes of salmon in the quarter, up from 2,900 tonnes in the first quarter last year. "
The EBIT per kg (gutted weight) came to NOK 12.39 in the first quarter 2021, compared with NOK 14.36 per kg in Q1 2019. The decrease is attributed to lower salmon prices, partly offset by lower costs at harvest. The contract rate for the quarter came to 50%. SalMar's share of Scottish Sea Farms' pre-tax profit came to NOK 116m (£10m), against a pre-tax loss of NOK 38m (£3.3m) in Q1 2020. The report said the standing biomass status was good with low sea lice levels in all regions. Norskott Havbruk expects to harvest 36,000 tonnes of salmon in 2021.
SalMar's principal fish farming activities are in Norway and on a group level it delivered an operational EBIT of NOK 627m (£55m) and an EBIT per kg of NOK 17.02. The group expects to harvest 163,000 tonnes in Norway and 14,000 tonnes in Iceland (Icelandic Salmon) this year.
At the start of 2021, the company secured NOK 7.5bn in green financing, which will be used to finance continued sustainable growth.
CEO Gustav Witzøe, said: "Towards the end of the first quarter, the price of salmon rose steadily compared with the levels seen in the autumn of 2020 and at the start of this year. Together with a strong operational performance from our employers along the entire value chain, this enabled SalMar to announce yet another good result, with margins up on the previous quarter."
He added: "We have always had unwavering confidence in the salmon farming industry and continue to invest in new smolt facilities and processing plants, as well as costal and offshore farming.
"SalMar is well placed to continue growing sustainably, not for growth's sake alone, but because salmon is a sustainable marine protein which is needed by Norway and the rest of the world. SalMar has been producing farmed salmon for 30 years, and intends to carry on going so indefinitely. Food will never go out of fashion."