SalMar and Aker launch new global ocean salmon farming venture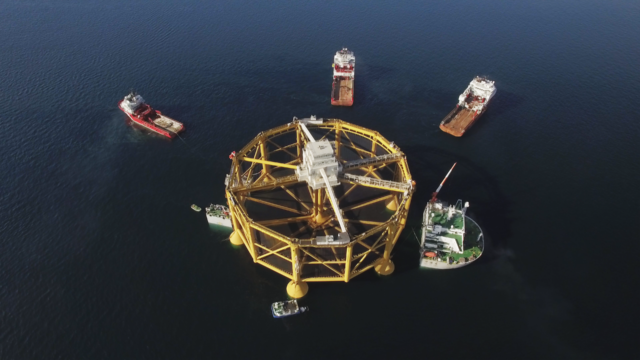 SalMar today announced it has entered into a strategic partnership with Aker ASA, the industrial investment company specialising in energy, seafood and marine biotechnology to establish a global offshore aquaculture business.
The new joint venture company will be known as SalMar Aker Ocean AS and will conduct fish farming in open water and in some instances, far out at sea.
Combining Aker and SalMar's industry knowledge and leading expertise in salmon farming, industrial software and environmental technology, the two companies said.
Aker will invest up to NOK 1.65bn (£136m) in three tranches. The initial aim is to operate in Norwegian waters, but the new company eventually plans to expand internationally. Salmar and Aker will eventually own 66.6% and 33.4% respectively in the new set-up.
Their plan is to create "the world's most reliable and intelligent aquaculture business out at sea with the highest requirements for fish welfare" along with an ambition for zero emissions for the entire value chain.
SalMar already has considerable experience in offshore farming through its Ocean Farm projects.
SalMar CEO Gustav Witzøe said: "SalMar's investment in sea-based farming marked the start of a new era in the seafood industry.
"We are very pleased to enter into this collaboration with a strong industrial partner such as Aker. Together we will lead development and ensure sustainable growth in salmon conditions.
"We will exploit the ocean's potential to produce healthy food, use digital technology and environmental technology, and together with the unique supplier industry ensure long-term and sustainable food production. Together we can take the next technological leap for aquaculture, and we have a global ambition."
Aker CEO Øyvind Eriksen, added: "The aquaculture industry is facing a new, and even more sustainable era, and opens up for the use of a new resource base with green production.
Andreas Ervik will lead the company as CEO and the board will consist of six members, including Gustav Witzøe, Atle Eide, Kjell Inge Røkke and Øyvind Eriksen.
SalMar and Aker believe the new offshore technology opens up large new areas for salmon farming, where salmon can grow under optimal biological conditions.
SalMar Aker Ocean said it will continue to develop this technology to ensure production on salmon conditions, meet the highest requirements for fish welfare, and minimize the environmental footprint.