SalMar Aker Ocean picks new chief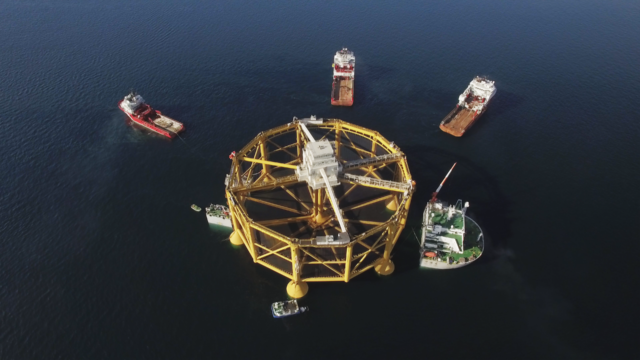 A new man has been appointed to lead SalMar Aker Ocean, potentially one of the most exciting fish farming operations over the next decade.
He is Roy Reite, currently general manager of the seafood company Fjordlaks and takes over as CEO of the joint venture which plans to produce 150,000 tonnes of sustainable salmon at further offshore locations around the world.
Reite replaces Olav Andreas Ervik, who announced his resignation after just a few weeks, citing family reasons and the long commute from his home in Lofoten.
The group is a joint venture between fish farming giant SalMar and the industrial investment company Aker ASA.
SalMar Aker Ocean chairman Atle Eide said: "Roy Reite has valuable international experience from industrial construction and Norwegian finance, and he has in-depth knowledge of coastal culture.
"He provides insights that are important and necessary to realize SalMar Aker Ocean's ambitions. "
Reite has considerable experience, working with large construction projects in the maritime sector and offshore and, for the past three years, has led the seafood company Fjordlaks.
For 20 years he was a key leader in Aker Yards and CEO of what is now the shipyard group Vard.
Reite has considerable experience of leading both listed and unlisted companies, and he has contributed to building a business with more than 10,000 employees and a turnover of NOK 12bn (£1bn).
He said: "In SalMar Aker Ocean, I see a company with significant growth potential, and that motivates me strongly.
"The company has determined, knowledgeable and capital-strong owners in combination with skilled employees and concrete plans to create a new, Norwegian industrial adventure with international ambitions, and the foundation for it all is the belief in – and the need for – sustainable production of healthy seafood."
SalMar Aker Ocean has already completed two successful production cycles with the production facility Ocean Farm 1 in a weather-hardy, exposed area outside Trøndelag.
The experiences from this are now being built into a new and larger version, Ocean Farm 2, which is under development. The company has also applied to the authorities for permission to place its Smart Fish Farm, described as the world's first clean offshore fish farm, approximately 50 nautical miles west of Frøya, central Norway.