SAIC joins forces with Nofima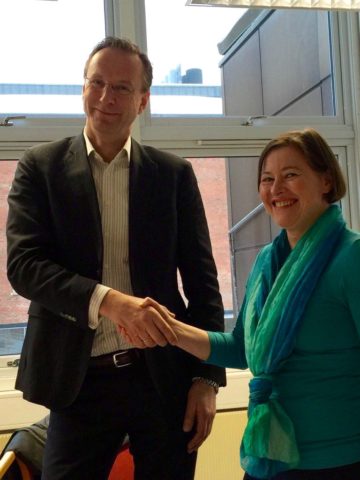 RESEARCHERS in Scotland and Norway are to share expertise in addressing common challenges in aquaculture.
The Scottish Aquaculture Innovation Centre (SAIC) and Nofima, , one of Europe's leading institutes for applied research into aquaculture, fisheries and food, will collaborate in particular over sea lice control, sustainable feeds, rapid detection of pathogens and diseases, and shellfish spat.
A letter of intent setting out shared objectives and goals for an initial period of three years was signed during a recent visit to Nofima's head office in Tromso.
Representatives from SAIC and the Institute of Aquaculture at the University of Stirling were given a behind-the-scenes tour of Nofima's ground breaking research facilities and activities.
SAIC CEO Heather Jones said: 'This is a must-seize opportunity for SAIC to join forces with one of Europe's leading names in aquaculture research and deliver real competitive advantage to the industry.'
She said the agreement would enable SAIC 'to forge a close working relationship with Nofima, access an even broader range of competencies, and explore possible avenues of funding together'.
Nofima aquaculture director Nils Haga said: 'Scotland and Norway are two of the most dominant and dynamic forces in aquaculture.
'We can bring our collective vision, expertise and resources together to make even more significant advances for challenges common to the fish farming industries in our countries and in Europe.'
Keen to capitalise on the new collaboration as soon as possible, SAIC will be involved in the Nofima chaired Zero Lice workshop at the North Atlantic Seafood Forum (NASF), from March 1-3, in Bergen, aimed at coordinated industry innovation.
And Nofima has been invited to participate in SAIC workshops at Aquaculture UK 2016, from May 25-26, in Aviemore.