Safety issues highlighted in workboat accident report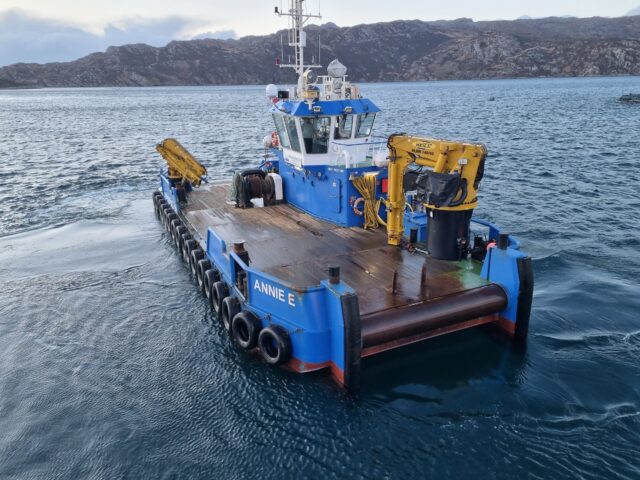 A report into an accident on a workboat operated by Mallaig Marine has highlighted a number of safety issues contributing to the incident.
A deckhand on the workboat Annie E was taken to hospital on 3 April this year after being struck by a falling grid buoy, which the workboat's forward crane was lifting at a fish farm site off the Isle of Muck, on Scotland's west coast.
The report, from the Marine Accident Investigation Branch (MAIB) of the UK's Department of Transport, said that Annie E's skipper had noticed that the grid buoy was out of position and needed to be lifted in order to recover and re-lay its mooring anchor. The workboat's forward crane was used to lift the buoy and its anchor connection out of the water. The buoy was suspended 9m above the water when its metal components experienced a mechanical failure, resulting in the buoy falling and striking the deckhand.
The MAIB said: "First aid was administered to the injured deckhand, who was evacuated by a coastguard helicopter to hospital, where he underwent surgery. He has since received further surgery and treatment."
Mallaig Marine offers a range of services to the aquaculture sector and has an ongoing contract with Mowi Scotland (formerly Marine Harvest), including two workboats, Annie E and Emma C.
The key safety issues identified by MAIB were:
The deckhand was injured when he was struck by a falling grid buoy that had been lifted by Annie E's forward crane.
The deckhand was standing near to the suspended buoy, contrary to the workboat owner's risk assessments, method statements, lifting plan and industry guidelines.
The risk assessments and method statements did not fully mitigate the risks associated with a suspended load.
The grid buoy was not certified as lifting equipment and the lifting technique used did not comply with the manufacturer's recommended procedure, which the vessel's owner and crew were unaware of.
The grid buoy's metal components were worn and the top washer was missing, both of which resulted in its failure.
There was no record of the buoy having been inspected before installation or routinely checked in accordance with manufacturer's guidelines while in service.
The MAIB report said: "In view of the actions taken by the organisations involved in this accident, no safety recommendations have been made."
Annie E was built by Neptune Shipyards, in the Netherlands, in 2017.