Royal opening for Aqua Nor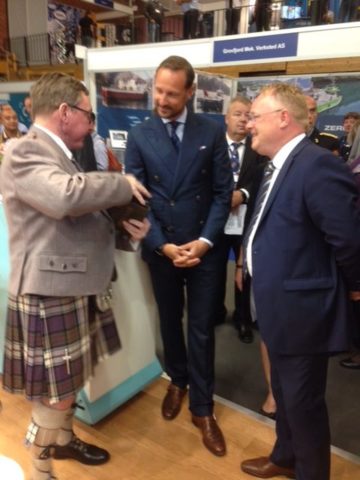 SALMON is the most famous Norwegian abroad, joked Norwegian fisheries minister Per Sandberg as he officially opened Aqua Nor 2017 today.
Addressing the large crowd, that included Norway's Crown Prince Haakon, the minister said aquaculture was still a young industry, albeit one that had netted US$7.8 billion in exports for Norway last year.
He welcomed the 'large number of international visitors' and in particular his counterparts from Iceland and Chile, as he described the contribution of aquaculture to Norway's economy.
Despite the industry's size, 'we are still only seeing the beginning,' said Sandberg, and there was 'enormous potential' to develop the sector.
Sustainability was the key to growth – 'do your business sustainably or don't do it at all,' he said. But profitability is what drives the industry forward and it was possible to align profitability with sustainability.
'It's our responsibility to keep telling the story of the benefits of aquaculture. If we succeed in getting the message across, there will be more people involved in aquaculture worldwide.'
Later the minister and the royal party toured the exhibition, which has 40 per cent more space than the last show in 2015.
They stopped by the Scottish pavilion, the first time Scotland has taken a national stand at Aqua Nor, and spoke to Fish Farmer's William Dowds (pictured).
William showed the Prince previous front covers of Fish Farmer, and he was very interested in one featuring Prince Charles and another, Fish Farmer's August issue, with Princess Anne.