Researchers call for standard approach to disinfection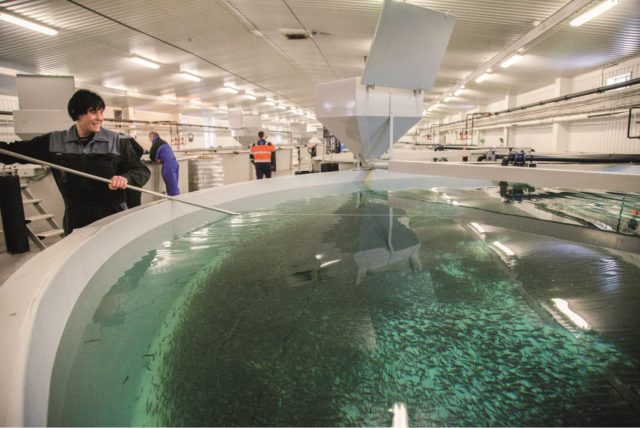 A comparative study of disinfection practices at land-based salmon farms in Norway and North America has found that North American farms use disinfectant more regularly, but the length of time for each application is more consistent in Norway. The authors of the study, at Norwegian research institute Nofima, say that fish farmers could benefit from a more standardised approach.
The Nofima study compared disinfection policies at RAS (recirculating aquaculture systems) in Norway and North America (USA and Canada). In both regions they found that the majority of Norwegian respondents, and more than 90% of the North American respondents, state that they use standardised protocols when disinfecting, and employees receive sufficient training to carry out the procedures. All respondents said that effectiveness against pathogens and user safety are the main criteria for choice of disinfectant.
Approximately 40% of Norwegian respondents state that they disinfect tanks and pipes after each production cycle, while 60% of North American respondents do the same.
The period of contact with the disinfectant varies between 12 and 24 hours at the Norwegian facilities, while there are greater variations in North America. There, the period of contact is from 1 to 24 hours.
Nofima's Carlo C. Lazado, a co-author of the study with Chris Good of The Conservation Fund's Freshwater Institute, said: "Greater variation in the period of contact may indicate that they have more structured strategies, and somewhat more experience regarding the effect of disinfection. This is reflected in the fact that most facilities in North America have longer operating time compared to the Norwegian ones."
A number of different disinfectants are used in all facilities, the study found. In Norway, peracetic acid-based disinfectant is mainly used, but also chlorine. In North American facilities, chlorine and sodium hypochlorite is predominantly used. The researchers say the difference may be due to the fact that far more products based on peracetic acid are approved in Norway, compared with those based on chlorine.
In both regions, the study found that operators have standardised procedures, but these have not been validated by research into their comparative efficiency at dealing with pathogens.
The researchers said that they hope that their study will help to encourage the development of benchmarks leading to a set of universal guidelines for disinfection in RAS facilities.